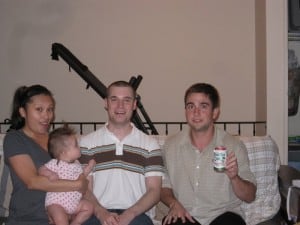 Met my good friend, Mike Andrews today, who went to Stevens Tech with me, at his company Hudson Digital Systems for internet marketing training and SEO consulting for his business. Again, trying to use public transportation has been difficult…looked to take a train to West Paterson, NJ but so many connections for only 16 miles….he ended up picking me up in Hoboken and grabbing some Mexican food.
It was great to see his operations, parents are both actively working in the office. Met with his inhouse web marketer, Nat, and used a few hours in the conference room going through marketing online.
The fascinating part to me was not my passion, internet marketing, but instead the after effects of his having a baby with his wife and starting a family. He said how much his life has changed, his eyes have opened to life in a whole new way. He loves his new addition to his family, and has put it way ahead of his current business…..making him find new ways to manage his business that has been consuming the past 5 years of his life.
We have been in touch even while I was overseas in China / Philippines, and have discussed ways I could help too. Its also especially difficult for him, because just as he is having his new baby daughter, his father, who started this family business – is coming into retirement…thus adding more stress / responsibility on his plate.
In his shoes, I wonder what I would do. Its his family business, who have put all their time and money into growing and building this business. Yet his father is the one who started it, has the sales and client relationships, now its passing on to him. And at the same time, he is in love with his wife and new baby, who demand more TLC (tender love and care) and the work is piling up.
This is one of those hard (maybe easy to some) decisions you have to make
MONEY OR LOVE / FAMILY
And it makes you think, what is life all about? He and I were driving around a bit today, and in cars seems when real stories come out. We both seem to agree money isn't everything, and that Americans are under false sense of security with their jobs, home mortgages, nice new cars, and other possessions. Money comes and goes. So do possessions. I think they can be replaced rather easily. But life, love, family…those are things that we have to think about….can't get time with our family back.
And this is another reason I am waiting for marriage, sure everyone says you can't time things, and it happens when you least expect it, but….right now I have to develop business…and still "Find myself".
Having too many choices has been confusing. I talked to my friends in China, and they are jealous of American freedom, especially mine that I utilize (As most americans don't really appreciate/realize/use their true freedom), to go where I want to go, get loans rather easily, and do the job I want to do. In China, friends tell me they have to work a certain job in order to save money, to pay for family, to pay back debts, etc. But we have this in USA as well. ITS CALLED AN EXCUSE if you ask me.
Its hard to do what you really want to do in life. Even me now…I am hesitatnt to think I can really do what I want to do, and make money with it, for fear that it won't make much money, or that I won't impress my friends and family.
So back to Mike Andrews, he is a guy in a crossroads as well…..trying to live up to his family's hopes and desires by maintaining and growing the family business, yet at the same time, in love with and wanting to spend more time and attention to, his wife and daughter.
What would you do?