My buddy Andrew and I were born in the same city hospital, 2 weeks apart.
Our social security numbers are super close!
He is turning 40 today.
I'll be 40 in a couple of weeks.
Birthday Text Messages
We are getting old, we don't even use Facebook or Whatsapp.
We're sticking to old school SMS (lucky I have Google voice).
So, I shot him a quick message from China.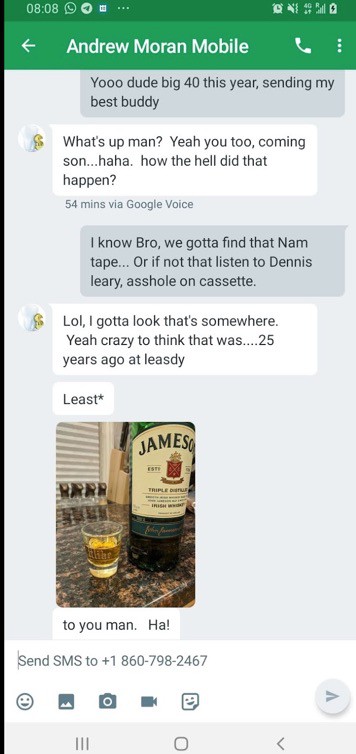 He Had a Shot of Jameson for me, using the "mike" shot glass
Choked me up a little bit – he sent me this photo:
Life Truly is Short
That shot glass was a gift while I was living with him in New York City, around 2005 timeframe.
Over the years that shot glass survived all our moves and all our hard nights working and then out on the town.
Seeing this image made me recall all those long and hard nights working on Wall Street, doing eBay and ecommerce, and then pub crawls.
We worked hard, and we played hard.
Now we are 40 years old.
Cheers to Life
Thanks Andrew, happy birthday, and here's to an even better 40 more years.