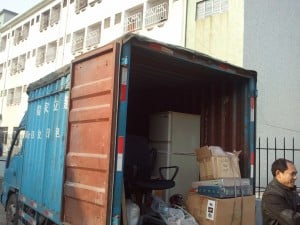 Currently typing this in the passenger seat of those Chinese blue moving trucks, I love it! Horns blowing next to me, the wind and smog blowing in my face and up my nose, rock on! When I closed up the biz in china in 1 day lease contract with my 3 story villa office a few months ago, before leaving to my USA trip, I worked the deal where I didn't sell them my furniture, but had them hold it for me until I was ready to move it. Well, time has past, options have been considered, and it makes the most sense for me to consolidate all things in Dongguan, China. Sure I'll keep my smaller office in Coastal City, but as far as the Nan Hai garden, I am lucky they still kept my furniture, and in good condition! So this Sunday afternoon in mid Jan, I got my friend's moving company to come over and help me load up and move the goods from Shenzhen to Dongguan.
Still keep thinking back and reflecting from decisions I made in 2010. I was so sure that I would base all my operations in the 3 story villa in Nanshan district of Shenzhen. So sure, signed 2 year contract, invested in fixing up (painting, electrical upgrades, 2 internet lines, curtains, 2 water heaters)….this was basically 1 year ago to this day.
I remember clearly my thought process….I was living in an apartment across from my office, both leases were coming due in a couple months, Feb and April, and both were set to increase. So I was looking around to move. I wanted to have all my operations together, I'm a workaholic, so I want to live close to, or inside, where I work . I prefer "grunge" over new and expensive settings…I feel it inspires me more, my creativity, my motivation. Plus its less pressure, if I'm paying for it, why "waste" money to have some brand new and expensive office……I'd rather invest that into workers salary or marketing.
So maybe 2 months, Jojo my assistant and I were on the market for a new location for the office, as well as my living. Viewing old Shenzhen factories that were converting to offices, they seemed too expensive. Traditional offices didn't have the ability for someone to live, plus were expensive, so we found this 3 story villa near the Shenzhen bay border. Older building, quiet area…..needed some investment, but got a great price. They said the government would soon shut down the whole complex and turn it into high rise condos or a shopping area, but that was at least a couple years out….could still enjoy the space and cost savings for a couple years.
I remember signing the lease on Christmas eve 2009, so excited, merge my warehouse (had rented some concrete shell apartments for storing the bar products and then had put them in a factory storage room in Huizhou, China), put the workers all together, allow some to live there if they wanted, cook there, I could live there. It would become a living, breathing, working machine – dual ended distribution for warehousing, sales meetings, internet marketing team.
Then rumors came out Google was talking about leaving China, and then google really did leave china….I remember the rumor news in Jan 2010….Jojo looking at me, we still were in the current Hai Wang office, as the newly signed Nan Hai garden villa was being renovated. I was scared, would google.com get blocked in china? Would my gmail, my google apps, and all other google services be banned by the Chinese government? Then I started to think, move to Thailand?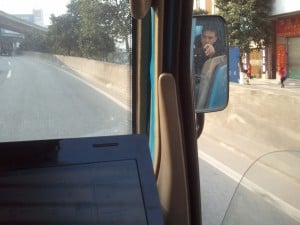 Luckily I had Marie in the Philippines at that time, odd how that even happened, as she was supposed to come back to Shenzhen, China after her Christmas holiday with her family in the Philipppines, but visa issues and my decision to let her work remotely in Philippines instead came out. And she was happy with that, as she would be able to spend time in her hometown and still earn salary. So then my idea to invest more in Philippines started becoming and URGENT reality.
What a rough 2010, a wild ride. Those following my blog along the way probably have felt that….I still went through with the move to the Nan Hai garden office, and last Chinese New Years I worked there alone, strategizing and preparing for 2010, the year of the Tiger, and the spent Chinese new years 2008 in China, with 2009 in Amsterdam.
Really not going to go through 2010 AGAIN in this blog entry, seems I have been reflecting too many times. But as I finish typing this in this passenger seat of again in a blue Chinese moving truck, I wonder whats in store for 2011.
Sure we control our destiny, but sometimes we have to make the best of the current environment