Today – back from the airport in Ningbo (delayed flight…from 7pm to 2am takeoff…back at 5am!!! is that allowed in USA??)
Government came to my home office Friday, when I was in Ningbo and basically said to my staff that was there – "you can't live in your office…office and house has to separate"….so what do I do….move to the warehouse across the street. take down the bed, pay a biker 30rmb to take it "across the street" (really a huge highway)…..now the city government bureau will check up again in the next couple days…..good thing i'm going to USA for a month….gotta think what my gameplan is.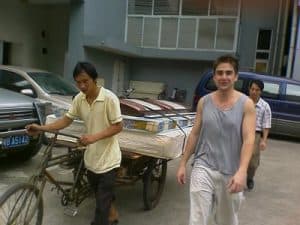 Success in Ningbo
Interviewing potential workers, viewing warehouses, seeing partner offices, visiting factories. Lots of drinking, bars, beer – you know…business in China!