Close Call (Daughter Put a Bead Up Her Nose)
Just a normal Saturday evening at home. Reading a book to Miles and Maggie when suddenly about halfway through the book Maggie says her nose hurts. She is scratching at it a bit. Trying to figure out and she says (in Chinese) "toy".
I call Wendy over to help.
Maggie explains she put a bead up her nose and it can't come out.
We try to look up her nostrils to check – but can't see it. Must be deep in there now.
Freaking out.
Kids already showered up and in pajamas – but time to take Maggie to the hospital. Wendy volunteers and changes her clothes.
I think – let me google it – toy stuck up my kid's nose.
Thank goodness for the internet.
Find an article about the Mother's Kiss – basically put your finger on the nostril that the toy didn't go up – and then put your mouth over the kid's mouth and blow air inside to try to push the toy out.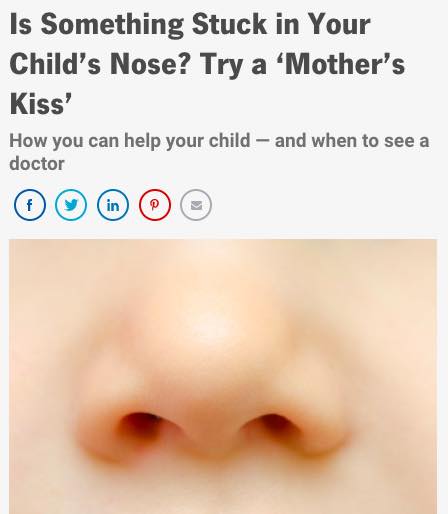 So I show Wendy the infographic and suggest she tries it.
Doesn't work.
Oh no, let's go to hospital.
As she is still preparing – let me try this out. Maggie is crying that she doesn't want to go to the hospital and is tired (its 9pm now) – she wants to go to sleep.
So while she is sitting up, on my lap, I push down the one nostril and come down and blow hard into her mouth. Out pops a blue necklace bead. Well, not a full pop, kinda… hanging there (bit disgusting).
Phew.
That felt good, I take a walk to the kitchen and reward myself with a chocolate bar and soda water.
This is what it is like to be a parent. Need to be there, always. Saturday night 9pm used to be my time out on the town with friends. Imagine I was still doing that and Wendy was home alone with them. Who knows what would have happened on the ride to the hospital, the traffic, the waiting room, etc. And the costs. And how serious it could have gotten over more time.
This may not be too bad of an issue, who knows maybe Maggie will stick more toys up her nose (hope not) but this is why parents need to be with their kids, and watching them all the freaking time. So much energy and time. But this is what I am prepared to do – and this is what I have been adjusting to over the last 5 years (can you believe my son will be 5 years old in a few months, insane).
As I still see my friends single, I try not to scare them – but this is the reality. You will choose when you become a dad, do you change, or do you stay the same. Often staying the same means you will not….be home much.
Yes, it is a huge lifestyle change. But the kids will be big soon and before I know it I'll be at their graduation and they'll be moving out. So 5 years a parent, and in another 5 they will be shy to have me around them at school.
So enjoy these days, and be prepared for toys up noses and more chaos.