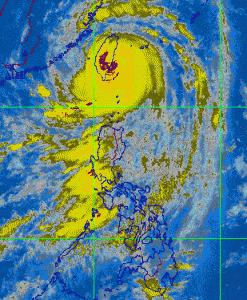 I keep telling myself, this is the life I choose, so I just have to DEAL with it. I just got this email from Marie down in Manila, Philippines:
Subject: Typhoon "basyang" in metro manila Signal no. 1

Hi Mike,

We are experiencing typhoon the whole day today. It was signal no. 1 in our region while the other parts of Luzon is signal no. 2 and 3. I hope the typhoon will be gone when you fly to Philippines. http://www.pagasa.dost.gov.ph/
It will be mostly rainy here so please bring your umbrella or any close shoes not to wet your feet. The roads are not clean for your feet to get wet so I will advise you in advance. Take care and hope we will wait for you here.

Cheers,

Marie
She is so sweet at the end, I do have to get some new flip-flops….the ones I have are worn out and falling apart. Maybe I'll wait till I get there……
but man…..internet is down over there right now. Again, it makes me realize the NATURAL disaster risk of operating an office…other people in southern Philippines I am talking to online right now are OK…..it seems just in northern and metro Manila….
Hope this passes by before my flight Thursday….but then again, I think its heading straight towards China……and thats my departure airport location…..gonna be a long wait in the airport it seems.
Be prepared for anything. Be strong. Live life. Whats that saying – be prepared for the worst, hope for the best