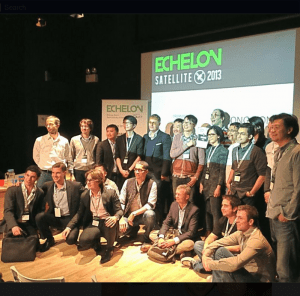 3 pitches in 1 week, talk about intense, last week we went to Singapore to pitch at Startup Asia, today in Hong Kong for this Echelon, and then this Friday for a Shenzhen Innovalley pitch to hundreds of Chinese investors and entrepreneurs! After these 3 pitches, our startup will definitely be on the map!
The full details of the Hong Kong satellite event can be found on http://echelon.e27.co/sg2013/echelon_satellite/hk-satellite/ but I always like to snip a bit of it on the blog here for those who want the highlights:
What is Echelon 2013?

Echelon 2013 is into its fourth year and will take place on 4 – 5 June 2013 at MAX Atria@Singapore EXPO. The conference will feature engaging keynote speakers from the technology and startup industries, a Startup Marketplace bigger than ever before featuring emerging technologies and businesses from Asia, and the ever present Startup Pitches that will see a new tech startup become champion for its business and product innovation.

Echelon is e27's flagship conference. Since 2010, Echelon been attended by entrepreneurs, innovators, investors, government organizations and tech companies alike and has attracted high caliber keynote speakers, often with successful businesses of their own from around the world to impart their knowledge and passion to delegates.

Echelon is typically held in two phases, the first phase being the Satellites. Satellites were first held in 2011 and usually organized in partnership with local communities. The preliminary pitches take place during these Satellite events and selected startups will be invited to exhibit at the main Echelon conference's Startup Marketplace or pitch on the main stage during Startup Pitches.

Startup Pitches

10 startups pitched
7.10pm – 9.00pm

CoachBase
Decision Fuel
English Adventureland
GoIDD
Hotel Quickly
iDentalSystem
Perpetu
Playroll
Social Agent
StampUp Retail CRM
Verbase
VIMANTRA
PhatRice

Judges

Mohan Belani, Co-founder and CEO – e27

Felix Lam, Managing Director – Red Chapel Advisors

Simon Squibb, CEO and Co-founder – NEST

Jia Woei Ling, Head of Technical Sales APAC – Amazon Web Services

Tytus Michalski, Managing Director – Fresco Capital Advisors

Paul Orlando, Co-Founder – AcceleratorHK
About 200 people came, standing room only at the Good Lab coworking space in Kowloon. Great to see such support from the Hong Kong community – I guess it is pretty cool to witness such passion from hustling entrepreneurs.
The winner was (drumroll)
Perpetu – a service that allows people to subscribe to a plan that once you die, your social media accounts and emails are handled the way you want them to be (email autoresponder, port photos to a certain friend, etc)
Congratulations to all the startups, I can only imagine how hard it is for the judges to just pick one out of all the amazing teams.
Social Agent had a great experience, our new team member, Dan, was able to attend his first startup pitch, and Chris and I were practicing our pitch and bonding even more.
We got a few new clients as well, and new investor leads.
Getting Social Agent engrained in the minds of the startup community! Hitting the pavement, and pushing hard!