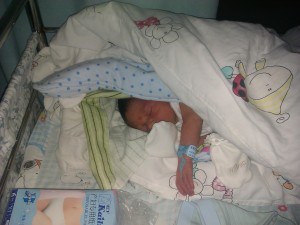 Man, what a week last week was, and NO, its not my baby (so many people get confused there!)! My "main girl" for the newyorkbarstore and ecommerce business is Marie, and those reading my blog and tweets see her mentioned every once in a while, especially when she was helping me explore opening a company in the Philippines and build up a customer service support team in the Philippines. We ended up both deciding Filipinos enjoy home based work, and the overhead of forming a real company in Philippines was way higher than letting everyone work from home, have a flexible working life, and also save costs. We turned the computers and other fixed office furniture into a hybrid work from home center and cyber cafe – Clear cafe!
Marie came back to Shenzhen to get married with her German boyfriend and build a family together. She loves working from home (or anywhere) and has been awesome to work with my crazy life and business persona!
So this blog, my business, my life is getting so personal. I could resist and fight to draw a line between personal life and business life – BUT I AM EMBRACING IT so may as well be totally open on this crazy experience rushing Marie to the hospital last week for her early baby delivery. She has been working a bit while she's pregnant, on her own time, and we were meeting up in Shenzhen team coworking space last Wednesday when all of a sudden HER WATER BROKE!. there were a couple others in the coworking office, and I'm thinking – "Am I gonna have to deliver a baby in this coworking space?!? Now that is something to blog about and promote this space!" HAHA.
But then we rushed downstairs to take a taxi to the Nanshan General hospital ….all I can think is I'm going to witness a childbirth in the backseat of this taxi! I'm the boss, not the father! hahah!
We made it to the hospital….and I am the better Chinese speaker of the 2 (and boy, do i suck at Chinese…) so we call her assistant to translate over the phone….got her on a hospital bed…..getting stared at by all the Chinese….this couple (they all must have thought I was the father!) in a Chinese hospital, delivering a baby, and can't even speak Chinese! Total chaos…we must have been a big topic at their family dinner tables that night!
Marie's husband, Daniel, was stuck in a taxi in traffic, and their assistant was on a bus….we were transferring rooms, beds, going on elevators. In China, they want money first…and gave me a bill. I'm like "no, no…I'm not the father". But again in China, you gotta pay before they do anything. Marie kept telling me not to worry about it. Then I was in a room with sleeping pregnant women and I was asked to leave. Seriously, out of control! I'm standing in the waiting area, stared at by all the Chinese…no one can speak any English. Luckily they take her ID (her passport is processing at the visa office…. bad timing!) and they transferred Marie to the other (new) hospital building….more elevators and transfers and bumpy roads…..
I had been carrying her bags and mobile phone, texting to her husband and assistant as we moved along….for some reason my mobile internet wasn't working (couldn't checkin on foursquare!) not sure if it was blocked inside the hospital zone for some reason)…and I was going crazy!
Finally Daniel arrived, paid the bill downstairs (took forever as he had to go through a few departments and cash registers and paper receipts and invoices, etc) but then he came back. It was a month early delivery….and the Chinese doctors said it was too early. I thought she would be returning home, so I left to go back to the office.
But I didn't realize she was going to stay in the hospital and have it delivered. Friday, August 26, 2011 her baby boy, Carlos was born into this world (while I was in Hong Kong / Macau – save that story for another blog)….
Amazing….life still blows my mind……so happy
This is now the 2nd baby delivery I've been somewhat involved with, with the recent Hong Kong baby delivery for Leon. Again, life and business always seem to collide, and I may as well share my crazy experiences with ya'll on this blog.