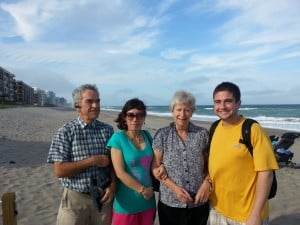 Finally arrived in Florida – some have asked why I waited so long in this USA roadtrip to get to Florida – well, I have been booking my China / international flights to the West Coast to save a few hundred dollars and then (in other trips) use my airline points to fly domestically in US. This time, the domestic flights transformed into a road trip (after booking the international flights) and this was just how it worked out – Florida is on the opposite corner of the country!
Driving down from Washington, DC to Florida we tried to do in a day (GPS said 14 hours) but ended up staying overnight in Jacksonville, Florida motel and arriving on Friday mid-day.
My parents have never met Wangxia until today – as I haven't been back to USA for almost 2 years, and they have never made it over to Asia to meet me. Rather strange feeling I had driving down that day to meet them – wishing they had made it to the wedding in China – but my mom doesn't feel well enough to do such a long flight. Just the anxiousness to arrive to Florida during that leg from DC down the coast… like uniting 2 parts of my family for the first time. Wondering how the reaction will be. Wangxia says she wants to learn some of my mom's home cooking and try to make it in China when we go back. Strange feelings – realizing how spread out my life is, and how much it will be over the rest of my life.
We arrived to meet them – the 3 of us in the van so tired after such a long road trip – Wangxia was also getting a bit sick the day before, and with her being pregnant… made all of us worry.
The plan in Florida is, as always, a mix of business and personal. Tomorrow we'll have a China Business workshop down in Sunny Isles (right above Miami) and then Sunday planning to meet my cousin.
Also planning to go to City Hall for a US "wedding" to make it official on this side of the world. Many have asked me how marriage worked being American marrying a mainland Chinese – I think this is big enough for a blog post on its own (coming soon).
Raw emotions going through me as I type this… life is so precious. I always wish I could spend more time with my family and friends. Seeing everyone over this trip has been great, overwhelming…and wondering if I am missing something more.
We will spend a few days here before heading back to the west coast. The plan is to drive to New Orleans, Dallas, Las Vegas – and then fly to San Francisco while Attila heads back to Arizona.