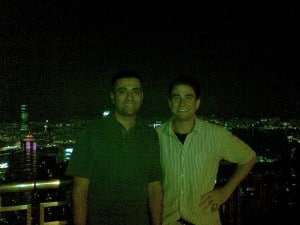 Finally Hasan has made it out to visit me in Hong Kong. We spent lots of emails back and forth about when he would be visiting….making it a bit difficult to arrange my philippines trip before going to usa, but it ended up working out ok. He is only 1 of a handful to come visit me from my USA friends, like Jon Conte back at the end of last year.
Larry salibra came out with us the first night and day, as he's really been spending a lot of time in hong kong as he explores expansion outside his office in guangzhou
Friday night we went up to the peak, a famous tourist destination for hong kong overlooking the city skyline. I had been there once before but during the daytime – seeing the skyline lit up at night is much cooler! Also hiked around a bit on the peak trails seeing the hong kong skyline from so many angles.
Hasan got a hotel on hong kong island, at fortress hill in a new hotel so we crashed over there. One thing to note was that internet was 150 hong kong dollars, per day, per computer – insane! Larry said that you notice this more in expensive hotels, as the price of the hotel increases, the less services are included and the more expensive each amenity is. Jeez!
Saturday got hasan around central and then took a tram up to see the big buddha statue! It was also my first time to see the buddha, normally when i come to hong kong its not to see the sights but to do banking, visit companies, offices, warehouses, accountant, and some bars! So this was also a much needed exploration of hong kong as well.
For those that know me, you can imagine how hard it was for me to be away from work so long, and i dont have internet/ data on my mobile when i an in hong kong….so i was also cut off from twitter, foursquare, facebook, linkedin….its like torture for me not to have it now!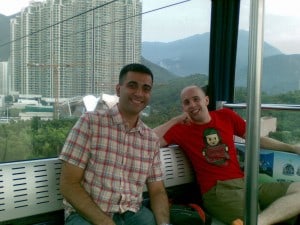 i may save this for another blog, but hasan was visiting hong kong and china for the first time. He was interested to see wirh his own eyes all the development and expansion being talked about in the usa. He just finished his MBA from Columbia University in New York City, and is spending the summer with his family in Pakistan, as well as traveling around the world a bit.
We are both agreeing that there are tons of business opportunities here in China and Asia. He spent a lot of time in Pakistan this summer and talks about all kinds of business going on there.
Its been a bit exhausting, Hong Kong is really fast paced and pretty expensive! We wish there was more going on in USA, he is saying its pretty much the same as it was when I left a few years ago, but that it will be eye opening for me to see it myself again after so long.
I agree, I'm excited to get back to USA after so long, and see whats going on.