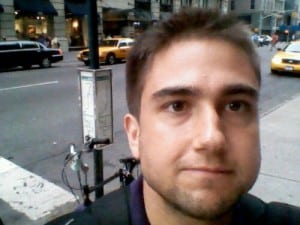 Seriously, I overextend myself and then get all crazy (emotional roller coaster) . This year's USA trip was much more organized and planed than *** last year's mania. But still, I overbooked myself, and feel like I let a bunch of people down….rushing through meetings and trying to get too many people together at the same time.
Here is a list of things I did in NJ / NY this week:
Got into Hoboken Sunday afternoon, drinks with my boys (see photo) from the wedding
Met with my "NY mom" Nornale who is a top blog reader….she is going to the Philippines for the first time this October! I sooo wish I could meet her there..
Met with my good buddy Andrew Peranick, who I used to work with on Deutsche Bank wall street, and his wife Nicole to discuss her website With Love From the cupboard and new business selling high end pastries.
Monday back in Hoboken, saw the first Hoboken's coworking office and met some awesome new people for SEO, web design, and commerce.
Tuesday back to the Coworking space, and then more meetings and SEO audits and China business. Then met one of my favorite professors, Dr Ann Murphy, to discuss what I've been unto and talking about twitter and social media.
Rushed into NYC Tuesday evening, passing by Union Square park, Flat Iron district, Empire State building, making tons of phone calls along the way. Had dinner with a Stevens Tech buddy Ish in 34th street Penn Station, talking real estate sales in Hong Kong and Asia, as well as investment opportunities
Comedy Central had a sponsored beer pong tournament in Upper West side on 109th street and Amsterdam, finally met Billy Gaines from bpong.com and caught up on all our business experiences, stayed over in Upper West side that night.
Wednesday morning up bright and early, walk through Central Park West, tweeting and emailing, met Mark Kozhin who is opening his second health food cafe in NYC , Dvida
Late Wednesday morning met fab.com on 38th street to discuss selling Chinese brands like *** geek cook. and long term cooperations ideas. Got some Chinese fast food on 34th street, showed off my limited Chinese to the staff
down to China town to the New Work City coworking space (blog coming soon) to see Tony and catch up on emails. Talking about the Chinese brand huawei phone, discussed the Asia / USA coworking alliance. Also tons of phone calls wheeling and dealing, booking as many meetings as I can.
Wednesday evening down to Wall street, see my Deutsche Bank buddies Justin Ramos and Brian Sharkey… My fraternity brother, James also meets up – and we discuss Wall Streets bad investments in shell Chinese companies like Sino forest that lost investment companies and hedge funds millions.
after a few pints at the local irish pub, James and I head to the NYSE to grab beers and braughts…

4th Annual Blocktoberfest

NYSE is the world's largest single venue for block trading with 265 million daily shares of block volumne on average.

Please join us in celebrating block trading with festive food, drink and live music at the NYSE Block!
Details

When
September 28, 2011
5:30 PM – 8:30 PM
Eastern Time

Add to Calendar

Where
New York Stock Exchange
2 Broad Street
New York, New York 10005

Planner
NYSE Euronext

Left my bags at James (aka Ohio!) apartment on 70 wall street (dude, he has a nice place!) we head up to midtown to go to meet my friend Jonny from the bronx. Jonny works at the UN and invited us to a bar fundraiser for a NYC marathon runner. I had invited a few other good friends like Gerry Chan who does equity research and I met in Hong Kong a few months ago (worked with him in Deutsche Bank too) and Josh Whiting, my twitter friend who helped me tons last year with the NY bar store NYC warehousing nightmare… we all had been to China before and are interested in China business. I met a guy in the bathroom of the bar and he emailed me about buying into China!
Head up to the Bronx to crash at Jonny's place, early Thursday morning I go to Bronx factory of bar products, and talk about the future of New York Bar Store, and combining old fashioned B2B with new age commerce.
Rush out of the morning meeting in the Bronx, take the 5 subway all the way down to Wall Street, meet up James and get my bags from his apartment (that stayed there overnight while I was staying in the Bronx)….rushed to Hoboken via Ferry from Wall Street.
This afternoon (thurday) I spoke at Stevens Tech (again like last year's talk) about Selling in China (blog coming soon) and always seems to get some jaws dropping each year with the stories and experiences….mixed with my real straight shooting talk about how I see it.
Currently typing this Thursday evening at a bar in Hoboken, waiting to meet up a few friends and business contacts….
Tomorrow is my last day in NYC before I head to Connecticut….trying to meet up Shipwire to discuss commerce online solutions, then my affiliate marketing buddy Ken Chen, and the electrapour patent holder Mike…..
Rush via Grand Central station to Connecticut, meet my hometown and high school buddies for the weekend…monday off to Florida.
Ok, Lets go!! Can't give up, can't get exhausted.