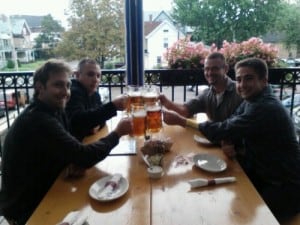 Coming back to America always is a reflecting point for me, meeting my friends and family, seeing where they are in their life, their goals, dreams ….and of course they always ask me "what is it you do, exactly"?
And I have been lectured to, as a friend, to get a focus… some read this blog (Ken!), and they do not see what I am really doing to…telling me to focus and MAKE MONEY… and see me losing focus and direction.
But I will be honest, a lot of business developments and revalations have happened in just over a week being in America….and they are in China….and when I get back and firm them up, I will update everyone.
Last year I was searching a lot more than this year, this year I am committed to coming back to China, committed to ecommerce
Its really sad to talk to so many of my friends who are laid off, getting laid off, afraid to lose their jobs. The feeling of helplessness…
So many mixed feelings….living away from friends and family, growing away from one another, people focusing on different things…..
Its been emotional, and like many of my expats (people living "overseas" from their home country) that this feeling is normal…..but I have pivoted to realize the opportunities and the future is in China and Asia….and that is where I will stay.
As I talk to my American friends as about the rapid growth of China, the new subway lines being built, the buildings coming up, the inflation, the job opportunities….
But again, I think back to history, that some people have to be willing to make changes to build opportunity, to build a business…
I just cannot say I see business opportunity by staying in USA. In a way, I wish I could…
I wish my mom didn't cry to me over the phone asking why I need to be in China in order to get opportunities…
those are the hard phone calls to make.
I think about how my grandfather must have felt when he left Italy to work in New york, to earn money for him and his current family and his future family with my grandmother and my father, uncle and aunt….
I wish I knew my grandfather on my father's side…
My uncle Bill even comments this blog, and says how sad it is in America currently…how he is on a fixed income and inflation is growing, etc etc….(((update))) My uncle Bill was born in the Bronx, NY by my grandmother who came from Russia through Harbin, China….she also came to America for a better opportunity than the country she grew up in.
I think my grandfather Gelindo Michelini would know how I feel now…..(my grandfather came from Italy to NYC and motivates me). Sadly I never got to meet him…but he was an entrepeneur who left Italy to build his future and business in New York….
and this trip to USA has made it clear, I belong in China….
and during this trip, other Americans have approached me wanting to come to China too, and I'm working on that too.