Have you ever wondered if by some miracle the retweets that you attain get tripled or even more by tomorrow? Most of us want to get more and more retweets and more followers on Twitter and we all want to know the tricks and mechanisms that can turn this dream into reality. But this is more difficult having said than done. On a social media platform such as Twitter, you cannot display whatever you want and expect others to retweet it by thousands. If you want to get retweets, you will have to employ certain sophisticated techniques to get the required results. There are plenty of approaches out there that can be used in this regard but the below mentioned 11 techniques have been able to draw us thousands of retweets. It's time you get to know all these 11 methods without costing you a dime.
1 – Tweet More
Quite a few people would not agree with the first tip which to tweet as much as you can. If you are able to tweet multiple times during a day, your tweets are more likely to get the requisite amount of exposure and hence more retweets. Twitter has now become really cluttered and noisy. Here's a figure that will blow your mind away: 500 million tweets are sent in a single day on this giant of a social media platform. With such a humongous number of tweets sent per day, what probability does your tweet have to stand out from the crowd? Probably none! Your tweets wouldn't be able to get the required amount of exposure and hence your voice will be lost.
If you are able to increase your rate of tweets per day, by simple logic you should get more retweets. According to recent estimates, once an individual tweets more, his/her rate of engagement does not rise straight away rather it gets increased exponentially. Actually what happens is that instead of getting ten times as much engagement by tweeting ten times more, there is far more likelihood of you getting 30 times more engagement for tweeting ten times more. You just have to ensure that you have loyal Twitter followers among your ranks and you stay perpetually in contact with them.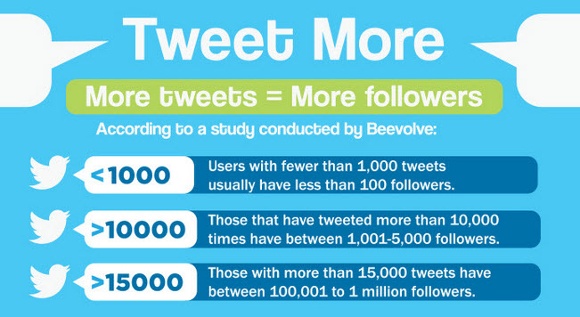 2 – Follow More People
For those of you who want an overnight increase in their retweets, they need to follow new people on Twitter. Basically, everyone on Twitter is not active all the time. Quite a few people are likely to drop out and stop using Twitter after a few weeks, months or even years. So it is essential that you continue updating your list of followers from time to time. You can get more retweets by following more people. Let's see why that is true:
Your list of followers is being updated with new followers on a regular basis
Your followers will have a look at your profile from time to time
Your tweets are going to get more and more audience
The process of following new people can be kept manual or even automated. We prefer the automation thing since the manual stuff takes a hell lot of time. Why not give a try to following twitter tool to automate all your Twitter Tasks.

3 – Write Awesome Tweets
There's no way that you can get retweets if your tweets are boring, monotonous and do not possess the ability to keep your followers engaged. It's just plain common sense! We can give tons of great pieces of advice on writing fabulous tweets. Here are a few of them:
Leave enough room for your followers and even other people to retweet
Ask your followers to retweet your tweets
Instead of pointing your fingers at people, direct your conversations to people
Your tweets should be easy going and ooze out fun
Try and be casual in your tweets overtly
Visuals are the way to go
4 – Trade Retweets
This is a technique that you don't listen too many people talking about. It's quite a buttoned-up one: Trade retweets!
Most of you will not be familiar with the number of groups that have been created secretly with the sole purpose of retweet tweets. The rules of the game are not that hard to comprehend. Every member of the group just has to share one tweet per day and everyone in the group is supposed to retweet it. The point of concern here is that such groups remain hidden and hence cannot be accessed or even found out easily. There's a silver lining though! You can create your own retweeting group and invite followers with similar interest, inclinations, influencers and areas of expertise to join in. Nobody loses in such a situation and refusing to join such a helpful group will be complete nonsense.
5 – Pinning Tweets
This one is one of our most favorite and effective methods of getting more retweets and post clicks. Without any shred of doubt, this method has been able to bring about an enormous revolution in our Twitter marketing campaign. What makes this method really interesting is that it does not take a lot of time and the retweets and clicks will keep pouring in. You won't have to do anything at all. Believe us!
What makes this method really effective is that when your profile is checked out by other people, the first thing that is visible to them is the tweet that has been pinned by you. We had thousands of people visiting our Twitter profile in the last month. With so many people coming to view your profile, you could just imagine the amount of exposure. Once you pin your primary tweets, you help to optimise their reach. Let's have a look at a few examples with over a 1000 retweets or so!
6 – A/B Test
Hit and trial is the way to go! You have to keep testing and trying things out. Try out as much stuff as possible. You can't determine for certain what works fine without having tested out various approaches. We keep a close eye at our Twitter statistics to know what is working and what is not. It is important to determine what sort of tweets are getting the most retweets and clicks. On finding out what kind of content is gaining traction among our followers, we try to post similar content on a regular basis. Here's an effective tool that we found out which was formulated based on a research conducted by the Cornell University. What they found out regarding getting more retweets will fascinate you. On the basis of the findings of the study, the team of researchers developed an algorithm to forecast which version of the tweet is more likely to get more retweets and engagement. It is a great technique and has been really helpful to us. You still harbor doubts about this research? Try it out for yourself! You can even take a fun quiz folks!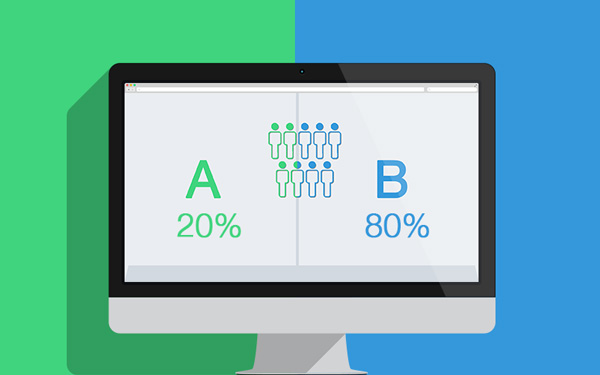 7 – Tagging Users
Another fantastic methodology to get more retweets is to tag users in images and photographs that you share. This is really an effective method and works because a user is allowed tag at the most 10 people on images in a tweet. With multiple images added to your tweets, your tweet reaches out to 10 people at the least.
We believe that this technique is very effective. Once users are tagged in an image, it appears on their profiles and if it's relevant to their interests, they will certainly retweet your tweet.
It is very important that you choose the people to be tagged in your images intelligently and methodically. Tagging random people in images turns out to be spam which instead of reaping any dividends results into negative repercussions. It is always advisable to tag those users who you know for sure have interests aligned with yours and with whom you seem to maintain a strong Twitter bonding. If people have been mentioned in your blog posts, it is recommended to tag them in images.
8 – Participate in Trending Hashtags
This method is quite an ignored one. However, trending hashtags represent popular trends and patterns are generally related to topics that are under discussion in your region. It is essential for enterprises to keep a close eye at the trending hashtags so that they can pitch in with their contribution in the local narrative and discourse.
9 – Tweet at the right times
The time of tweeting is of great significance. If you are tweeting when everyone has gone to bed, it won't yield you any gains. We wish that we could suggest you the right time to tweet but we all know that there never really is any right time. One has to take so much of stuff into consideration such as:
Demographic
Location
Industry
Culture
It is recommended that you try out platforms of the likes of Buffer and then decide for yourself which timings are more suitable to your needs. According to the research carried out by Buffer, here are a few suggested time slots:
Los Angeles, San Francisco (Pacific Time): 0900 hours
Denver (Mountain Time): Noon
Chicago (Central Time): Noon
New York, Boston, Atlanta, Miami (Eastern Time): Noon
Madrid, Rome, Paris (Central European): 1600 hours
Cape Town, Cairo, Helsinki (Eastern European): 2000 hours
Sydney (Australian Eastern): 2200 hours
Hong Kong (Hong Kong time): 0800 hours
Tokyo (Japan Time): Noon
Shanghai, Taipei (China Time): 2100 hours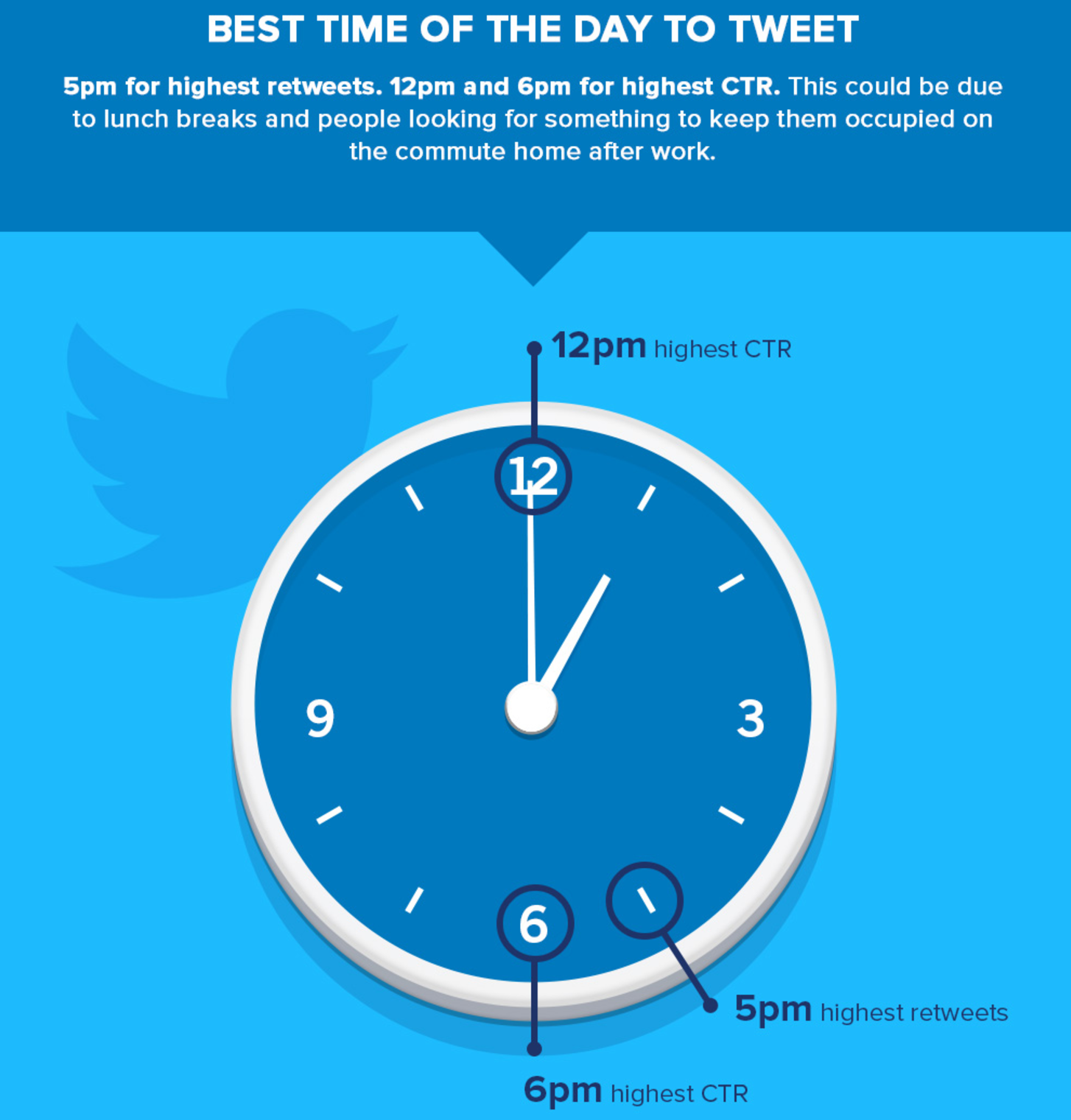 10 – Retweet Others
Here' a simple thing to do: retweet others without having to worry at all about ways to get more retweets. As a matter of fact, if you retweet someone's tweet more often than not, the probability is high that he/she will return the favor. It is a phenomenal method and works all the time. Just have a go at it and you will find the difference.
11 – Retweet Yourself
Did you ever have any idea that it was possible to retweet oneself on Twitter? Yes people it is very much possible! It is a tremendous feature to which most of the users are not familiar. Similar to retweeting someone else's tweets, you just need to go to your profiles, scroll down the page some of your older tweets and start retweeting them. Doing so will bring them up to the top of your Twitter profile page and will also be sent out to your followers on Twitter. This is a magnificent method that works like a charm. You can build on the already attained engagement that your older tweets had.
Conclusion
You have to try out all these methods and then decided for yourself which one suits you the most. You will feel a difference in your Twitter marketing campaign once you start trying new things out. Twitter marketing is something that has to be done incessantly and retweets form an essential feature of your campaign. We have been toying with these methodologies over the years and it's time for your try your luck out with them.
If you are worried to spend so much time in tweeting, retweeting, following etc.., why not read our article on how to automate all these tasks Or visit best twitter tool to followliker automate everything about twitter with click of a button