So pretty cool to find out… I was Mentioned in ADV China Video – Mass Exodus of Foreigners From China
Happy new year! On New Year's Eve the crew from ADV China uploaded a video about the Mass Exodus of Foreigners From China – check it out here, also embedded below:
Even after all my video blogs, podcasts, and this blog – I am still shy to hear about myself on video / audio. It was a bit sad for me to read about all the things that have been accomplished while in China – and then to leave.
Posting it on my Facebook profile got some interesting feedback (keeping here for the blog archives!)
Winston Sterzel You're welcome mate! Your efforts to help business between China and the outside world will always be recognised
1
Manage
Like
· Reply · 18h
Michael Michelini
Michael Michelini cheers, getting messages like this one ! Cross Border Summit may come back to China in Guangzhou with new organizers this April.
Edit or delete this
Image may contain: text
Like
· Reply · 17h
Franky Tong
Franky Tong I was about to message you and ask if Winston was referring to you when I watched his video 🙂
1
Manage
Like
· Reply · 17h
Michael Michelini
Michael Michelini yup, hehe its me
Edit or delete this
Like
· Reply · 17h
Tom Howard
Tom Howard What happened in China that made you leave?
1
Manage
Like
· Reply · 16h
View 1 more reply
Heather Shuster
Heather Shuster You're YouTube famous ????
1
Manage
LikeShow more reactions
· Reply · 17h
View 3 more replies
Heather Shuster
Heather Shuster Michael Michelini so true
Manage
LikeShow more reactions
· Reply · 8h
PJ Entrepreneur
PJ Entrepreneur Me too.
1
Manage
LikeShow more reactions
· Reply · 16h
Michael Michelini
Michael Michelini replied

·
3 Replies
Jon Santangelo
Jon Santangelo Seems this is said at the end of year, every year ????
1
Manage
LikeShow more reactions
· Reply · 14h
Jon Santangelo
Jon Santangelo replied

·
4 Replies
11 hrs
Will Lee
Will Lee Are the Africans leaving too?
1
Manage
Like
· Reply · 14h
Michael Michelini
Michael Michelini need to do a video interview with them and askFacebook Comments
Also got some private messages from those who are fans and subscribers of ADV China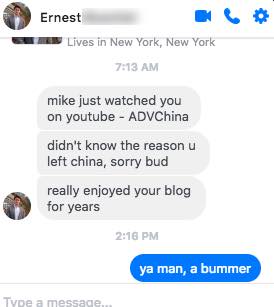 So Why Did I Leave China?
I feel I have talked about this a whole bunch of times on the blog and vlog. The list has many factors, and the reasons to leave outweighed the reasons to stay.
Biggest reason – costs of living, especially education, for the quality. My wife and I took a trip last summer 9999 and checked out Philippines, Thailand, Nepal, and Malaysia for alternative options. Chiang Mai won for the schooling options – cost to value – international schools with full-time English and amazing teachers. Plus fast, unlimited internet, amazing food, relaxed suburban environment (yes I'm a dad now) all were part of the decision tree.
Still Enjoy China For Its Intensity
I'm not gonna be a "hater" on China just because I left. But it was a numbers and business decision. The environment is not as open and welcoming as it was when I first arrived – in my humble opinion. Costs, as well as the political uncertainty as 2 big reasons for me. Wishing all my friends in China the best – already getting some pushback on this article – but hey – its the end of the year, and as a content creator myself I understand we need to get headlines and topics that get clicks and views – I left in August 😉