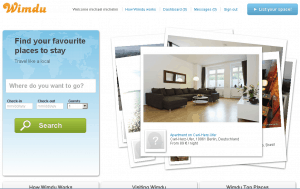 After startup monday yesterday, met Stephen Chung from wimdu room sharing which is a startup from Rocket Internet (part of the Groupon Europe clone Citydeal that was later bought out by Groupon and heads their international expansion).
Stephen is a cool guy from Korea, here in Hong Kong to market and expand the amount of hosts (available rooms to rent) in Hong Kong. I just listed my Hong Kong apartment to test it out. This is not like couchsurfing but instead you get paid for renting out your space.
I have attended some couchsurfing meetups in Hong Kong, they have weekly meetings on Thursdays in Lan Kwai Fong of Central. I have heard many of the CS'ers complain how hard it is for them to find couches in Hong Kong.
My friend Philip Tang has listed up his place in Hong Kong island, and explains he gets bombarded with couch surf requests there. And his profile is barely even filled out! People are just desparate.
I listed my Couchsurfing profile offering dorm in the Dongguan ecommerce center but for some reason, people don't read that, and instead I'm getting requests regularly asking (begging) to stay at my place in Hong Kong (for free!). I don't have an extra bed, nor a couch….its just a floor. Literally. I have had one friend take me up on the offer and do it….but I think he secretly regretted that decision!
The situation in Hong Kong, its interesting ….real estate is the highest in the world these days….after college graduation, many Hong Kong locals still live at home, to save money from renting an apartment and they cannot afford the down payment on a condo. Its just extreme speculation here….I personally cannot imagine housing prices to continue to climb higher.
Stephen was asked by a few people how to insure that people are safe renting out their place, he answered the following:
Facebook profile connect – Facebook is like our social security ID card and this is another example of how.
They have the surfer's payment information on file – if it really gets that bad, they will look into the payment details and track the person down.
Wimpu will back up, to a point. Stephen mentioned that there have been issues where the hosts of the places complained something didn't work so well afterwards, or other issues about details, and Wimpu backed them up.
Its been something I'm promoting go couchsurfing this summer and I think it opens people's mind to meet new people, visit new places, explore cultures…..without wasting too much money on hotels and focusing more on life. With less excuses that we can't afford to travel, or don't have time, blah blah.