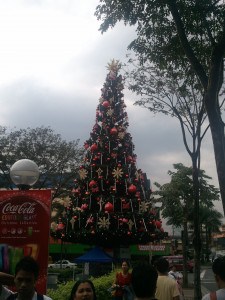 Its also bee good timing for me to be in the Philippines, as my goddaughter, Charlotte's birthday was just this weekend. Seeing Charlotte, with her parent's Bas and Maritess, make me think of my first time back in the Philippines for her baby christening in Feb 2009. Charlotte has been over to Shenzhen a couple times too. Have stopped over to see them a few times since then, weekend trips to see Charlotte.
I am really getting too familiar with the local transportation systems in Manila! Worked Friday night and then took a jeepney to Cubao. Talking to the barkers, found out that the bus to Dau was at THE OTHER Cubao station, next to Edsa, so had to take a bus (aka Suicide bus as they drive so fast) up the road. I'm just jumping on and off moving buses without flinching anymore….
STANDING room only on the bus to Dau, but didn't want to wait the 30 minutes for the next bus, as my phone battery died and I didn't want to have Bas waiting. Arriving there around 1pm, Bas, his dad and uncle were waiting at the Dau, Pampanga bus station in his jeep! HAah, that jeep is awesome! Shopped around for last minute birthday party items.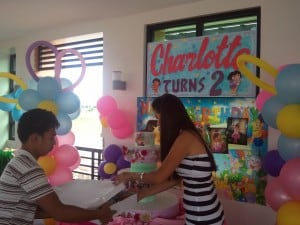 What an AWESOME birthday party, they had rented the common area in the residential complex they live, a couple clowns, KTV, fireworks, big buffet. Bas's family was also there, mom, dad, aunt and uncle. Lucky we had some tequila and margheritas too. Fireworks were a bit scary…some misfires into bushes….and using a sprite bottle, or red horse beer bottle, as a launchpad….but lucky no one got hurt.
I am sure Charlotte may not remember this when she gets older…but she can look back at the videos, images, and blog / facebook! Its amazing she'll grow up with her mommy's entries on Charlotte Victoria website…..and get access to her own facebook….again this makes me think how OLD I am getting…these kids these days will grow up surrounded by internet, social media…..who knows what the next 10 years will bring.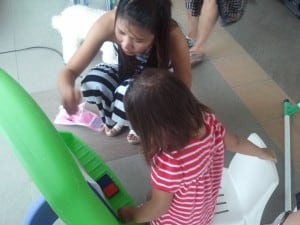 Party went on till about 7pm, cleanup time….and then off to grown up time in the bars! Just a few of us, I wanted
to bus back to Manila at night, but was warned by Maritess and Bas that I'd be robbed if I take a 2am bus…..so ended up staying over. Just living on the edge…like a local! I guess its financial, but its also experience,
creativity…..helps spark my writing inspiration……maybe i'm taking it too far, but really, buses and jeeps aren't t
hat strange to me! I mentioned to Marie that the https://mikesblog.com/2010/10/worst-bus-ride-ever-globally.html">worst bus ride ever was in New York….not in the Philippines….really….that is a weakness of America…PUBLIC TRANSPORTATION. Everyone there DRIVES THEIR OWN CAR. Uses their gas, insurance, car loans…its part of the system to spend money…why not have better public transportation?
Anyway, it was a good weekend in Dau and Angeles, Philippines….saw baby Charlotte growing older…walking, talking…I'm sure she'll grow up to be a special girl. Surrounded by blogging, social media, internet….international cultures….travel….amazing to me!