I used to love social media.
Maybe I'm getting old and stubborn.
But logging into my Linkedin – about 80% of it is spam – in one form or another.
this one made my day though: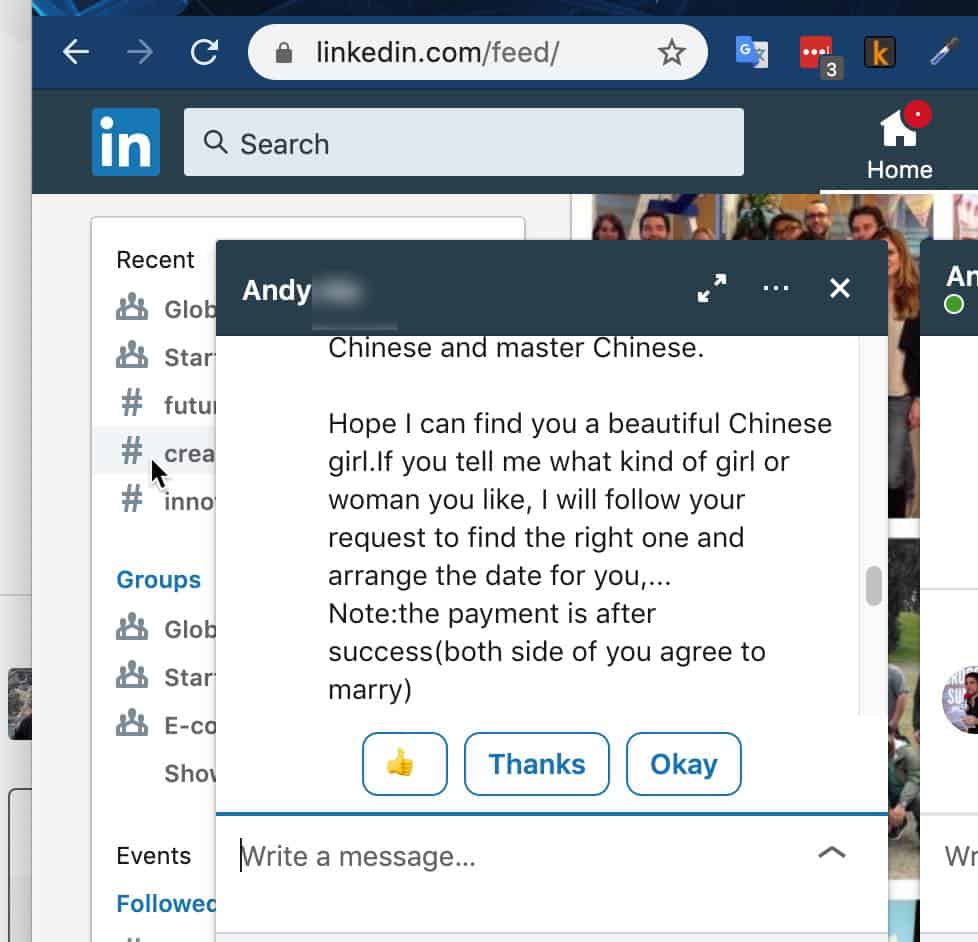 A Chinese teacher pimp?
Andy 9:56 AM
Hi,
No.1:welcome to language exchange party(1boy+1girl).Practise Chinese, make friends, play games,etc.
No.2:Easy-and-fast learning Chinese.30-hours teaching plan(25-50RMB/h):grammar, phonetic, word roots
After this, you can learn by youreslf. I promise.
No.3: matchmaking, marry Chinese girl or lady, 1000RMB, pay after success (you both agree to marry)
No.4:recruit English teacher and tutor,…
No.5:car service(driver+car),…
Please see more details in my profile…

View Andy's profile
Andy
1:20 PM

Hi Michael,

It is very nice to get in touch with you. Please check my profile for more details.Thank you very much.

Hope you come to language party for practising Chinese or for fun…

Hope my teaching will enable you to deeply understand and master the rules, essence and the most important parts of Chinese, and then you can learn it by yourself , truly understand Chinese and master Chinese.

Hope I can find you a beautiful Chinese girl.If you tell me what kind of girl or woman you like, I will follow your request to find the right one and arrange the date for you,…
Note:the payment is after success(both side of you agree to marry)

Of course, I also hope we can play together and help you in other aspects , because I also regard every customer as a friend,

My friend, please do me a favor, introduce your other friends to me, for learning Chinese, marriage, etc., I will buy you a drink,

cheers.

Andy
wechat: (removed)
Besides: I live in nanshan,near by shenzhen university. We can find a classroom to have lesson there.