I am often asked what I do for a living and a big part is selling bar supplies online. And after I tell people this, they always ask HOW did you get into selling bar products, are you a bartender? No, I'm not and never was a bartender….though the idea of being a bartender has always been tempting. I am an online marketer. I love the internet, and selling online. So after being asked more then ever how I got into the bar products business, as well as my recent decision to dive deeper (both in time and financial investment), I thought I would reflect on the blog.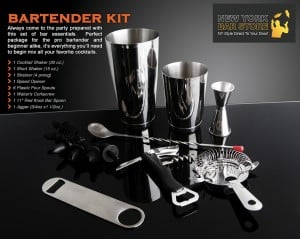 I guess it starts in 2004….I was looking to start an online business. Living in New York City, with my hometown friend Andrew Moran and I sharing a studio apartment in Murray Hill neighborhood of Manhattan. Attending seminars on how to start your own ecommerce business….yea we knew it was a "Scam" kinda deal, but it gave us the means to get started – the webstore system, hosting, merchant account, and other how-to guides. So we signed up, in october of 2004, no idea what products we would sell, but we would figure that out. At first, it was pimpguide.com that was the ultimate bachelor site, pick up lines, trendy products, nyc guestlist. We listed bar products, romantic gifts, poker supplies. We sold on ebay. But all that really sold was bar products….and was inventory was outgrowing our studio apartment (had to have the shoe shine guy downstairs collect goods for us, and it was getting out of control going to UPS at night to turn in those "notices" of missed deliveries) and I had George, my younger fraternity brother who was still in school to receive and ship goods for us.
2005 it just seemed stupid to be using the brand pimpguide.com to sell bar supplies. I was thinking, the idea of pimpguide was to be "trendy, modern, hip" , it also meant NYC, urban, city. So together with the bar supplies product line, it seemed fitting to transform it into newyorkbarstore.com – a trendy, urban vendor of bar products. Also, George was getting heat from fraternity brothers for overstocking the frat house with bartending supplies (though a few people bought from us there!) and we moved warehouse from the university fraternity house over to his basement / UPS store combo.
2006 – Again, orders picking up and fulfillment being harder to do in-house or through our university connections, we went to a 3rd party pick and pack center in upstate NY. Andrew, George, and I took a 3 day weekend and u-hauled it up there. We moved our shopping cart to a multi-channel system to align our ebay and webstore sales. SEO was picking up, we started really building an online brand.
2007 – Growing our online distribution, we added affiliate and drop ship programs. I wanted to quit my day job and be a majority owner and partner but the others resisted. Therefore I looked for a complimentary service, and it ended up being helping small businesses source / buy from China and I started a new company Shadstone Sourcing. Talking to vendors from the network, I began helping them buy from china as a service and together with New York Bar Store as a separate stream, I quit my job at Deutsche bank. Also opened the UK branch newyorkbarstore.co.uk
2008 – Moved 100% to China and started the Chinese company. Most of the operations was for 3rd party sourcing, there were some workers in the office to help exclusively for SEO and design for Newyorkbarstore.com for a monthly retainer, but again because different companies and ownership structures, I had to always have a dividing line. Started a Chinese bar supplies website 98products.com (98 means bar in chinese).
2009 – During economic downturn, newyorkbarstore was effected. Because the company was financing inventory (sucks we have to buy, hold/stock inventory…..bad part of the business) we got squeezed. Shadstone ended up merging with newyorkbarstore by the end of the year. And then I became more active in the business
2010 – These days I am streamlining operations, rebuilt the shopping cart earlier in the year. Moving warehouses, teaching staff in Philippines for support. Increasing SEO promotions and working harder on building an active sales force. Investing more in inventory in order to streamline supply chain and simplify the business. Hoping for a big christmas.
So yea…this is the "short story"….and while so many people think I should move on from bar products, its been pretty solid, has allowed me to build an international business around it. Learned so much, and it is coming around after a horrible 12 months of financial and management restructuring…..hoping for a good 4th quarter.