Excited to share I'll be a speaker on Aug 31, 2023 (check link for your local timezone) online webinar hosted by HKTDC on Tips for finding alternatives in Asia.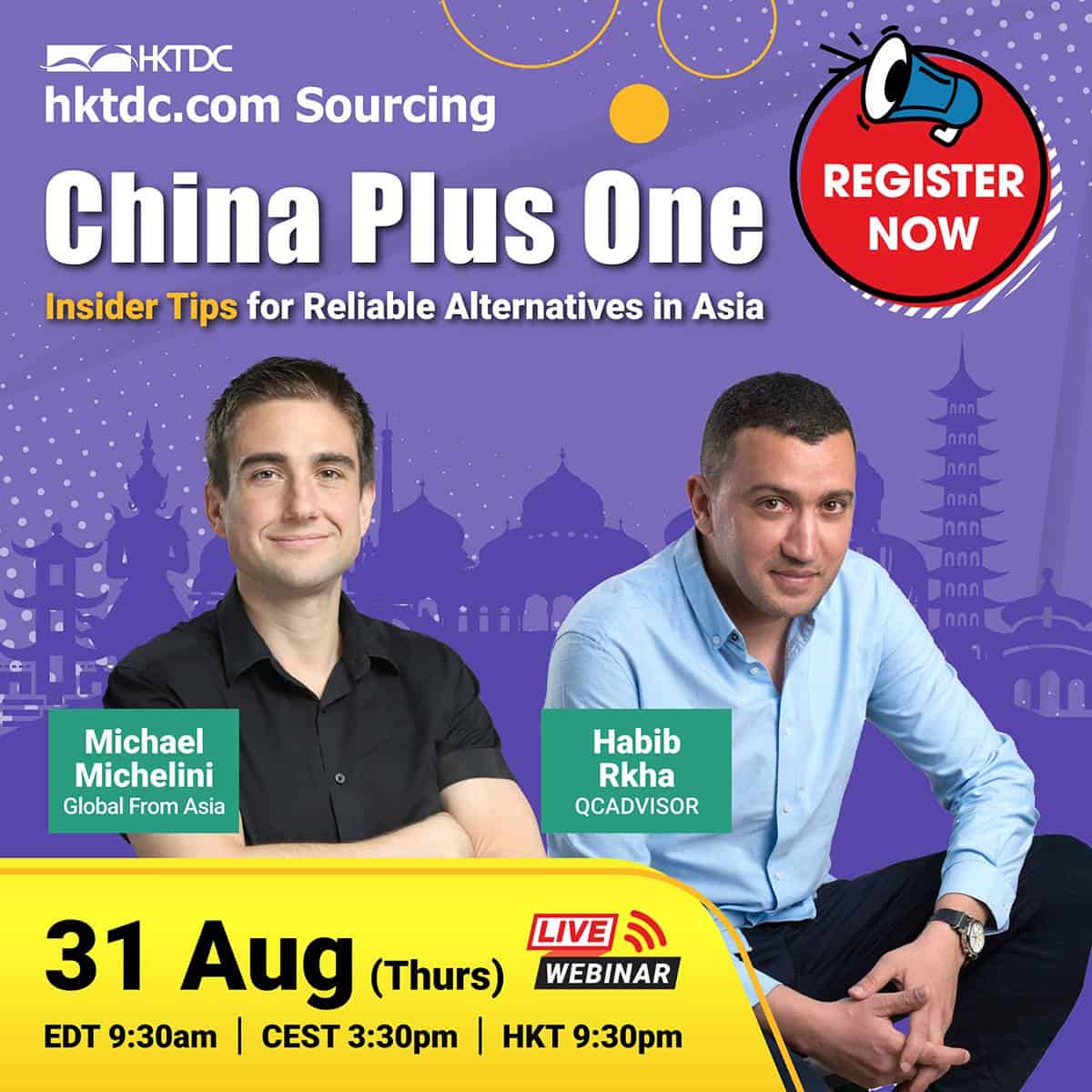 ---
Expect my presentation to be about my experiences sourcing and shipping in Thailand. The transition to Thailand from China, and the good, the bad, and of course the ugly during it.
Here's the full information from the HKTDC team, see you there?!
Date & Time
Aug 31, 2023 09:30 PM in Asia/Manila
Description
Are you ready to level up your sourcing game and stay ahead of the competition?
We're thrilled to invite you to our latest webinar where our experts will delve into the pros and cons of sourcing from China and other South and Southeast Asian regions and provide insider tips on quality control for sourcing from China's alternatives.​
Don't miss out on this exclusive opportunity to expand your sourcing market and reduce risk. Register now and gain a competitive edge!
What you will gain​:
Current trends of supply chain diversification​
Pros and cons of sourcing from China vs. South and Southeast -Asia regions​
Key tips for establishing a successful quality control framework​
Expert Q&A​
Speakers
Michael Michelini
Founder·Global From Asia
Michael is the founder of the Global From Asia podcast, a senior consultant for internet marketing, and a well-known anchor and host.
With over 18 years of experience in cross-border e-commerce, Michael has helped many Chinese become Amazon and eBay sellers. He has committed himself to connecting cross-border e-commerce and global trade business, establishing channels, and bridging between China and foreign countries.
Michael is known as the cross-border business connector for having solid contacts and influence within the cross-border e-commerce industry in Europe and America. He founded globalfromasia.com or GFA in 2013, a community of global cross-border e-commerce business owners and students engaged in cross-border business.
Habib Rkha
Founder & CEO·QCADVISOR
Habib Rkha is a Quality Control and Manufacturing veteran based in Shenzhen, China.
In 2018, he founded QCADVISOR with the aim of addressing the widespread issue of poorly executed QC services. With a strong commitment to providing tailored QCNsolutions and personalized attention, QCADVISOR has served more than 500 clients from Europe, North America and Australia.
He has conducted comprehensive audits, facilitated product development, and carried out inspections in over 1300 factories across several countries, including China, India, Bangladesh, Taiwan, Vietnam, France, and Germany.
Register Now
https://hktdc.zoom.us/webinar/register/5616914775705/WN_Q01_oP8iSpqgQ3ERtfuO4A#/registration