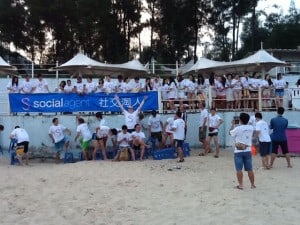 man, its been almost 24 hours now since the party ended and Im still wondering how that happened. A few weeks ago from the "peer pressure slide of Paul Orlando" where I set the launch date of August 10th with a beach party in Shenzhen til today, my team and I were worried we would even fill 1 bus of 54 people!
The idea was for it to be a celebration, and a way to motivate the team to finish the mobile app (android first), Chinese website, and other deadlines that seemed to kept on being extended. Putting a date around things reallly forces the team to make critical decisions to get it done.
As everythigni in china is, its always last minute. I think we were up to 40 registered as of Wednesday, and then Thursday and Friday a huge rush of people registering – to add to the complexity in USD eventbrite and RMB alipay, huodongxing event site, cash deposits, and bank transfers. By Friday night we were up to 80. I think also it was due to the weather report – no rain at all and early August is an amazing time for a beach party.
Not wanting to turn people away, we had to make a last minute scramble to get a 2nd bus. Rush order for more "Social Agent" tshirts. Driving the Barefoot beach bar adding more catering meals. The bus was originally planned to leave at 9am, but to catch the Hong KOng crowd we had it leave at 10am from Seaworld, and the 2nd bus 10:30am from Coco park. But the Seaworld bus didn't fill up, and we had to drive over to coco park to pick up overflow from the bus there. We also didn't plan for a bus from huizhou city to be arranged either, and at least 4 different cars coming.
Total insanity, but huge energy and all kinds of new people meeting new people – seems like a lot of new faces, and all there to network and have a good time. By 11am both buses had departed Coco park, and we were on the road to the beach (estimate 1.5 hours in transit).
The 2nd bus, one I was on, engine overheated about 1 hour in!! What we thought was a pitstop turned out to be a "dead in the water" overheated bus – at least we had lunch and drinks on the bus. They sent another bus from the beach to pick us up, but it was about a 45 minute delay and we arrived at 3pm.
We had planned to arrive at 1pm, and I was going to do an opening speech, make some announcements, and then go into the sumo wrestling and slip-n-slide and volleyball – but because so many people were arriving at different times, I said we would try to have the speech at dinner.
The 85 or so attendees were a good mix of Chinese and Westerners, which was the goal – but again it shows the different style of how the 2 cultures can enjoy a party. The beach was jammed with public tourists, and we tried our best to unify the groups. Just wish I had gotten there earlier! Was funny to see some swim lessons started (FYI a lot of Chinese cannot swim).
Slip n slide got set up and also some sumo-wresting action. Games of volleyball was going, beers coming out – tons of sodas and sodas left over from the bus. The beach bar was a restaurant and had to buy from their bar.
Few of us were getting good at slip-n-slide, but unfortunately a new-comer to the game ran from the bar all the way at full speed, unfortunately making a very high jump in the air, landing hard and bouncing his head ….sliding limp down the remaining slide and going unconscious. He had a minor concussion… lifeguard came down, nurses came over, and he was escorted to the local beach hospital. (later that evening he checked out of the hospital walking, not remembering what happened, going to the downtown hospital today to get a scan)
Dinner was served at 6:30, another party was also using the venue causing a bit of confusion about whose food was whose. I had my powerpoint and projector ready (I had to bring it in my bag as the beach didn't have one), but just due to the confusion, the multiple parties, the environment, it was decided to do an informal talk at the bonfire later in the evening.
Bonfire was setup, marshmallows got toasted, and I finally had a second to share some words to the group that goes something like this (added some parts here that I wish I mentioned for those "technical people"):
"Broken down buses, extreme traffic unaccounted for, concussions at the slip-n-slide, and a minor staff fight at the bar –> normal type of issues for a startup in China. We need to learn to adapt, to deal with these situations. If we can't, as so many westerners can't, we leave. But I am not going to leave. I am going to see this Social Agent through to make it work.
Thank you for all of you, for coming today, for your patience. Thanks to my advisors (one is Steve Forte here today), allies (Jeff Broer from SurroundApp is here today, Larry Salibra from Pay4bugs), team (Amy, Jing,Tiffany, Joey here today) Jon Snow for the app development—> Chris Li ….I'm so lucky to have him on our team, he's not here today because he's coding still, he's been so amazing in the product development, our early adopter clients, and our amazing agents (Sam and Cindy are here today). Thanks to all of you guys, its about building a community, around a vision and we're doing it!
Its been about 1 year now since the idea of helping western businesses do business in China through Chinese social media started, and what exactly is it? I know many have asked -we are a platform to connect businesses (starting with Western businesses in China) to sales agents (starting with Chinese agents for the Chinese market) to help them find customers in Chinese social media, as well as other offline events, and using our platform to FIND, MANAGE, and PAY in their relationships.
more simply said: Social Agent = FIND JOBS, FIND AGENTS, FIND CUSTOMERS, BUILD RELATIONSHIPS.
So thanks again for everyone here, today we launched our Social Agent android app, we have a Chinese website socialagent.cn (with a ICP license to legally host in China!),
Below is the powerpoint I wanted to share (via slideshare,
and also a few of the many photos that were taken and shared around in a wechat group.
https://plus.google.com/108118495524799444969/posts/ZFrcvf6op3n
(I'll also post this information on the Chinese slideshare and the Chinese photo sharing services, for those who can't access slideshare and google+ from inside China)
Again, this is just the beginning, but a big landmark. Thanks to those who have participated with me so far on this journey.