Flight attempt 3 – Cebu to Korea To China
May need to make a highlight video blog from all these "Coronavirus vlogs" as many of you are confused where I am and what is happening.
Writing this Sunday morning March 22, 2020 – from a spare room of my buddy Josh's place in Cebu, Philippines.
Since the last video, you saw I safely arrived to Josh's after being kicked out of my friend Abdulrahman's, by the building security.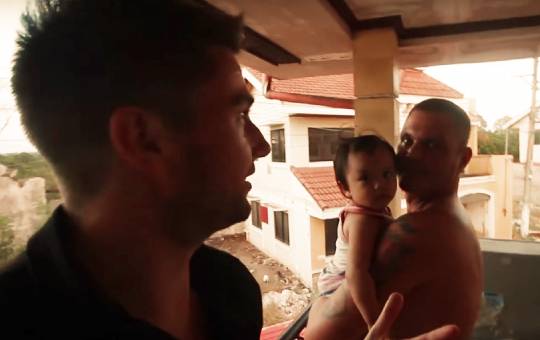 Many of you are so kind and sending me various flight information and other insights. One was various embassy Facebook posts that said the Philippines Department of Tourism and Philippines Airlines arranged special flights to Manila for those who have international flights in 24 hours.
The Facebook post from the UK Embassy was at around 1130am, I was shared it from LJ on the team at noon, and the flight was 130pm or 3pm that day. I rush to the airport hoping to get a 3pm – without my bags – planning to see if I can even get the ticket before packing and especially before booking a flight from Manila to China.
Jumping in a Grab taxi, head to the airport.
Still a ghost town except some foreigners like me.
Finding the PAL (Philppines Airlines) ticket book , I take a number and wait.
Sorry sir, the mormons booked all the seats.
I was wondering who that huge group of people in white button down shirts, and black slacks were in the main doorway.
Trying to get them on camera for this video blog, they said they requested no journalists or media for their story.
Bummer, can't get them on the blog.
PAL told me to go to the airport main booth and add my name to a list, there might be another flight departing at 5:40pm and they will add me to the list.
Stocked up on Starbucks (7-11 didn't take credit card) and then called the Grab back to head back to Josh's. Making the most of my "Cheat day" with cinnamon rolls and strawberry vanilla shake.
Do you think I got a call for the 5:40pm flight?
Ya, didn't think so.
Later that night, my wife is chatting to me about booking any flight I can – just get out of there. Way past my bedtime, 11pm I fall asleep in the middle of the chat. We were discussing if I connect in Korea and have to check out and check in would I have any problems – so asked her to ask the Ctrip (Chinese booking agent) as that was the company selling the tickets.
Woke up my normal 5:30am morning routine to see she booked a flight for me – TODAY – departing at 1:30pm with the 20 hour layover in Korea.
Guess we will find out what happens.
Packing my few things – AGAIN – and Josh gave me a duffel bag to take some cans (15 kg checked luggage) as I have no idea what to expect in the Chinese quarantine food-wise (trying to keep my girlish figure). Also giving Josh my Manila apartment keys and door pass to send to Davide in Manila whenever mail services open again. Hope I don't lose my life's possessions in Manila.
Wondering where to end this video blog – I think I will cut it at Korea before flying to China – as I wonder how internet will be for me to upload any of that footage.  Watch everything here: