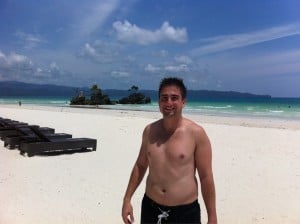 I believe everyone realizes I am past due on a vacation…and finally I got one, whether I wanted it or not! Spent the whole day saturday traveling from Puerto Galera to Boracay, just for the record:
Full day of traveling on Saturday:
6:30am wake up in Muelle pier, Puerto Galera. Boat leaves ON time 7am, but not a direct boat, it has to make a stop at Sabang pier before
Arrive in Batangas port 9am, trying to catch a 12:20pm departure Manila to Boracay, In Batangas, try to save time to get a taxi, but so many hustlers changing prices and terms….James, Chris, and I along with Damian (who missed his Bangkok flight already) take the bus. But 2 buses are there, wouldn't tell us which one was leaving first, but find the bus with more locals and more full and jump on that one. Luckily it was right, and we left after 5 minutes.
While on the bus, get a call from MikeMo that the 12:20 flight to Boracay has been CANCELLED and they have some other flights available later in the afternoon, at least I don't have to rush to the airport now, as I have been delayed in Puerto Galera for 2 nights already.
Arriving at the closest bus stop to the airport, part ways with Damian who is staying in downtown Manila overnight, look to take a taxi to the airport….but the taxi's refuse to use a meter, and tell us to cross the overpass of the highway in Manila to catch the taxis that will use a meter. James has a lot of luggage to lug around and didn't realize this wasn't a "5 star resort vacation". I've learned to travel light and backpack only. Find a meter taxi and head to the airport. Meter only ran up to 60 peso….taxi driver (taxis in Manila philippines I blog about here). Its getting better though
Arrive at airport, Chris didn't have a flight booked yet (his mobile data plan hadn't been working for hours to book online. I am getting phone calls from MikeMo and Attila about flight times, one saying 3pm is available, other saying 3pm is fully booked and move to 3:45pm. I'm flexible, but Chris is booking his flight and wants to fly together….after a series of calls, its determined 3:45 is the flight we will use, and all 4 of us are confirmed.
Take free shuttle van to the casino near the airport. Chris had to pay an extra thousand or so because he booked his flight in person (his globe mobile data wasn't working!) so he had to "win it back at the casino". I'm a watcher not a player, spent about an hour there. Had some japanese fusion lunch, then head back to the airport to catch the 3:45.
Taxi back t the airport (across the street) in terminal 3…..of course they don't want to use the meter, asking for 100 peso…churn through a couple taxi, and finally get a taxi that will take us over on the meter….60 peso.
Go through security, no problems, MikeMo already had our seats reserved and was waiting for us. I don't need my passport for domestic flights, so was able to use my American driver's license to get through checkin.
The 4 of us finally all meetup, ready to start a vacation, "hangover movie" style, in Boracay, Philippines! All of a sudden, announcement – FLIGHT IS CANCELLED! We have to wait in line…..Turns out we cannot fly to the Boracay airport directly, but have to catch a 5:45pm flight to Kalibo airport instead and take a bus to Boracay…..or wait til tomorrow…..so we have no choice, we want to get to Boracay for Saturday night, and we receive free travel coupons for future domestic flights…..sigh….we just want to get on with our vacation!
Fly to Kalibo on time, and arrive around 7pm….take a 7:30pm bus to Boracay port….that is paid for by Cebu Pacific Air. A very windy rural road up hills, side to side….ran over a dog during the trip….at least we had some San Miguel Light beers we picked up at the airport to hold us over.
Arrive at the port, take a boat across the port to Boracay island….around 9pm at this time.
Finally, after arriving at Boracay island, catch a tricycle from Section 3 to Section 1 of the island….catching sites of all the clubs, bars, beaches, and adventure options for this crazy weekend ahead. Checkin to hotel approximately 10pm
So that covers it – boat, attempted taxi, bus, taxi, shuttle bus, taxi, plane, bus, boat, tricyle…..9 methods of transportation and 15 hours of travel time…..yes, it is Typhoon season so I shouldn't attempt this vacation travel anyway….but it was exhausting.
BUT IT WAS WORTH IT! Used every minute we could to drink, eat, swim, and suck in the Boracay aura. Unfortunately (or fortunately on behalf of the "vacation" part) the hotel only had wifi in the lobby (not even cable internet in the room), so I was not able to do more then reply to emergency emails…..forcing me to enjoy my vacation. (sure I was still tweeting on twitter and checking in on foursquare, but that is my kinda fun!)
Supposed to fly out of Boracay to Manila yesterday (Monday) afternoon, but received a phone call from Cebu Pacific that the flight has been cancelled….and MikeMo is able to get one seat on a later flight that day, but there were not enough flights for all of us….so the three other dudes Chris, Attila, and me had to get a 2pm flight the next day (Tuesday)…..aiya……
But again, delays may be for a reason, and we lived it up on the extra day in Boracay. I had to cancel / reschedule a few phone meetings to Wednesday….and stressing a bit more that more email and work is piling up…..but during the trip met the general manager of a resort here, Discovery, and he and his friends took good care of us, being hospitable filipinos as they explained it. Spent the afternoon eating and hanging by the poolside there.
We were invited to his villa in the mountainside where there is an infite pool, private BBQ cook, DJ, totally awesome place….burgers, beers, and a swimming pool overlooking the Boracay beach….not sure how vacation could be better…
Today (Tuesday) I'm writing this from the plane ride back to Manila….only half capacity on this propeller plane because they say the weight limit is tighter due to the high winds recently…..bumping off many people from the flight, like a group of 20 Chinese tourists from Shanghai. They were so angry…..but luckily we were able to be squeezed onto the flight and should land in Manila later this evening.
It is a bit scary here taking off on the runway….thinking it wouldn't be that strange the plane couldn't take off and crash….made me think, if I were to die…I would not regret living my life each day. Maximizing my life and waking up each day looking in the mirror to make sure I am doing things I am excited about and passionate about.
But this trip has been exhausting….so many cancelled / rescheduled flights and meetings….its allowing me to "let go" a bit more and learn to relax and not stress about the things I cannot control.
Definitely a vacation I needed….I think I'm ready to work like a maniac again! Lets rock!