Only a few days back in Shenzhen, and already preparing to head out to the Philippines again, this time to take care of some more detailed items at the new home office call center for nightly calls, banking flow, setup some computer and workflow procedures. Will definitely be a much more business trip.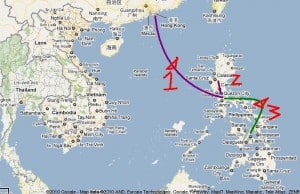 And I will be traveling to a few places, I put the Philippines islands map – the map I am pasting here isn't that great (sorry don't have photoshop on this laptop)
But man….there is so many problems booking flights with the philippine airlines – I normally use Cebu pacific air. And I use a Hong Kong or a USA credit card…..they have started making NEW FRAUD alerts….a verified by visa program.. I have had 2 credit cards frozen…..one in hong kong, the other in USA. and they call me DURING THEIR BUSINESS hours. haha, do I ever get a break? So I get woken up at all different times from fraud departments about verifying the "suspicious charges". I guess I am a "suspicious person"….I use USA IP address, but still booking a flight from Hong Kong to Philippines, that is gonna raise flags.
Ok, enough for my endless complaining about international business and travel problems. But it still never ends, no matter how much I study it – most of my friends in China just use CASH now….straight bank transfer or deposit.
I'll be in the Philippines from Friday June 4 to Tuesday June 15 –
Manila City – Friday, landing at the airport in Manila (capital) (see #1 on the map). I am trying to actually re-route my flight to Clark airport to directly visit my smarty goddaughter Charlotte Victoria but seems due to fraud checks and verified payments, I will have to land in Manila as originally planned. I'll meet Marie – I will max out the 15 kg luggage limit the philippine airlines sets – give that to her, have her go back to Quezon City – and then I will take a bus (3 hour…) north to Angeles City to meet up Bas, Maritess, and my great goddaughter Charlotte!! (see #2 line on the philippines islands map in the post) What is great is Bas will be here, as originally he was not going to be in the Philippines, but has extended his flight. Think I'll spend a day or 2 there.
Quezon City – Sunday June 6 – June 11, its a city near Manila where the new home office is. Look for an american embassy, learn how business in philippines works more deeply. Possibly finding more workers – maybe the local government can help more. I also hope to find networking groups – is there any foreign or small business networking events? Marie tells me its a lot like Shekou here in Shenzhen, with Starbucks (the real one I hope!) and other foreign businesses. Electricity and internet are stable, she tells me. Just want to be more comfortable and secure and in future posts you and I will see.
Head down to south Philippines, Cebu – Friday June 11 to Sunday 13th – taking a short flight down to Cebu (#3 on the philippines map here) meeting up an American friend Josh. He is living down there over 6 months now. Also does a lot of internet projects so I am excited to meet him in person (have always chatted on MSN) He used to live in Xiamen, China doing import / export and recently moved down. His birthday will also be at that time, so hope to get some party time in, as well as talk business cooperation and share ideas.
After Cebu, back to Manila for a couple days, wrap things up with Marie and the others in Quezon City. Hope that things will be more clear for the future there – and how to manage and grow it better with USA support and service procedures.
Then, after the 15th back to Shenzhen, China. I am gonna need a VACATION. Sure this is travel, and I squeeze some party time in it….but really it NOT RELAXING. I need a day without the phone call of emergencies…..and banking fraud issues, or website freezes / blocked by governments and IP and servers. It is fun and adventurous, but I hope to be blogging about some vacation time soon. Maybe USA….we will see.