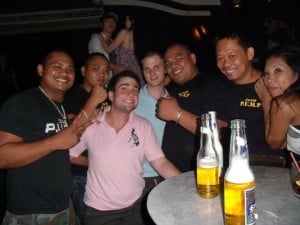 Currently writing this on a plane from Cebu to Manila, with a crying baby 2 rows ahead of me. I'm proud of how I am able to work with so many distraction around me….as it allows me to travel. What an amazing week this is and will continue to be….had come back to Manila for New Years and some meetings….then this past Sunday came to Cebu to meet with some internet companies I do some projects with. Also was able to do some small networking in Cebu and make some new contacts.
Will arrive back in Manila tonight, some last minute setup for the cyber café, meet some friends MikeMo and Attila with his girlfriend, pack, prepare for the apartment lease to end, and head to Hong Kong tomorrow (Thursday) evening. Will then rush to another couchsurfing meetup in Lan Kwei Fong, Central, Hong Kong seeing some friends I already know as well as make some new contacts.
Stay overnight at my friend Alex's place in Hong Kong, met him at boot hk , and he is fortunate enough to be going to Beijing, China to seal a deal working with Groupon China! Congrats to him! He was originally supposed to accompany me to Shenzhen, China Friday morning, meet some of my contacts there as it would be his first time in mainland, but plans change and I'm happy for him.
I'll still head into Shenzhen on Friday afternoon, have those meetings with some electronics manufacterers and logistics companies, finish up planning for the shenzhen ecommerce meetup on Saturday and finish my presentation.
Will crash over Dave Ho's place Friday, and Saturday afternoon will attend and coordinate the "informal" that's becoming more formal Shenzhen ecommerce meetup in Nanshan's high tech park.
Not sure about Saturday night, there is a networking event also in nanshan, or may lay low…..normally after my exhausting weekdays, I prefer to sit back and relax when it gets to a weekend or a holiday.
Sunday do plan to get to Dongguan, back to the factory and ecommerce center for fiveislands ***link and work on recruiting and training a new inhouse SEO team in the Dongguan office, which won't seem to get started until after the Chinese new years, but have to get planning and more inquiries in.
Tempted to plan a meetup in Dongguan, finding more and more businesspeople in the city, but may wait till later next week….Already seems I will have to get back to Hong Kong for a Thursday Chinese New Years dinner and then an American friend, Lily, is in Hong Kong for a few days, as well a MikeMo from Manila on a business trip.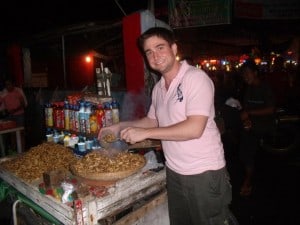 I just think this will be how my life is going to continue to be, but really it will / should stick within these areas – hong kong, Dongguan, Shenzhen, Guangzhou, manila,and cebu. Is that too many places? I don't think its that abnormal, blogging my comparison of south florida to south east asia, I am sure there are tons of businessmen that cover this type of a region. May have to make it to Shanghai sometimes as well.
Am I being less effective then I was stationed in a fixed office in Shenzhen for the past couple years 2008 – 2009 ? I don't think so, in 2010 I learned / forced myself to learn how to work remotely off my laptop, in cyber cafes…..dealing with USA IP issues with online banking when outside of the country, and Chinese governments blocking social media websites. Also have gotten my Chinese work permit (after many years of chinese business visas) so I can easily get in and out of China for business all 2011.
The past few years have been exactly this, a learning and development time for me. Its not a waste at all, I built up a great network, learned what I like to do, found my zone…and now in 2011, will just learn how to work on the road.
Luckily technology is on my side….I have ways to manage my files via cloud computing, password sharing and management, workflow and project management……really almost to the point where I can jump on anyone's computer and get right into my daily work. Think this started coming to be a reality and wake up call for me with Tim Ferris's "The Four Hour Work Week", we have to get past the idea that working means sitting in a fluorescent overhead lighting cubicle office….the world is changing and evolving quickly, and I am trying my best to stay on top of it.