We're approaching a year and a half here in Shenyang, China. And, the school situation is the main topic. The whole world has been locked down and we're doing various forms of online and home schooling. We did find an in-person school in our neighborhood for the kids.
But it is only for kindergarten. They call it a kindergarten prep school, to prepare you for grade school. It has been nice since no contracts and we pay by the month (about 350 USD/mo per kid).
And Miles is over 7 now, so obviously he's getting too big for that.
Yet, where do we go?
Stay in Shenyang?
Try to get back to Thailand? (Where most of our belongings are in various storage places)
Go to Shenzhen or another city in China? (More central and business relevant)
Shenyang for Another Half Year
We figure, getting back to Thailand will still take a half year and if we go to Shenzhen for a few months and then ultimately to Shenyang – what is the point of all the hassle? I can just go down for business trips.
So it seems Shenyang is our home for another half year and we just need to find a proper school for the time being.
For those curious, they cannot go to local Chinese school as they are not Chinese people. Plus, we do want them to have English anyway (the current kindergarten is 100% Chinese).
But there's nothing nearby and Wendy found a half day English "training" center for kids.
So a great excuse for me to brush the dust off my v-log camera and pile us all up on the subway and take a visit.
It truly is brand new, construction was still underway and no classes started yet. In the vlog you'll see some of the style – pretty classic school style in a commercial building. They tell us it is 12 kids per class with 1 American/ Western teacher.
What About the Mornings?
They also have a sister school for kindergarten nearby – and they can do Chinese learning there (Wendy still wants them to learn and improve their Chinese), so the teacher took us for a walk to the sister school.
It was a nice one, already well-established. It is a beautiful facility with a great vibe.
How much?
1,500rmb/month/kid for the Chinese morning kindergarten and 3,500rmb/mo/kid for the afternoon English training. So 5,000rmb/mo/kid or 10,000rmb/mo in total. In USD that is around 1,500 USD/mo.
Next up we wanted to check the neighborhood. This was a 1-hour subway ride from where we are currently living, so need to checkout the "hood" and obviously we need to relocate closer if we were to choose this option.
It is much more open and has a more suburban feel than where we currently are. And looking at the map, we saw it was just next to a massive city park we had done some weekend trips to in the past.
Miles and Maggie wanted to ride a bike. So we love just grabbing those didi-style bikes and took a thirty minute afternoon ride through the park (while also moving closer to our home). Honestly, it's a really nice park and with a 5 to 10 minute walk from the school and home, we imagined weekend picnics and other activities (maybe I can work in the park sometimes??).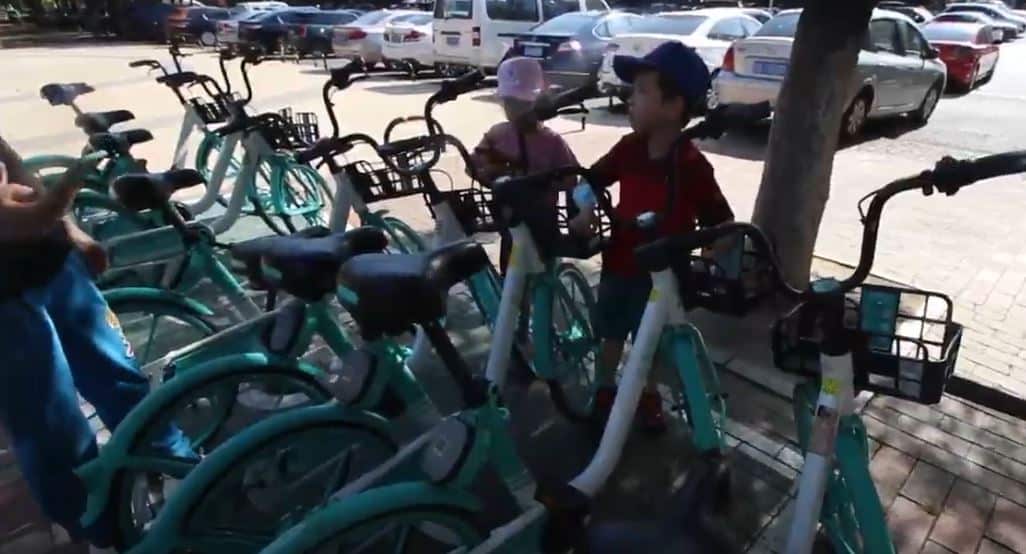 More Changes to Make
More reflections and discussions to make as a family. Kids didn't want to move that far away from grandma, grandpa, aunties and uncles but we promised we would meet them on the weekends. This also means Wendy and I would be busier taking care of the kids without her family nearby to help.
More changes.
It is true what they say – the only thing that is the same is change. We are always changing. We are always adapting and growing.
As I rode through the park with Miles sitting in the bucket between my 2 hands, I thought, honestly this isn't so bad. Air is clear, water and wind are refreshing.
Just This Isolation
But hopefully I can take a business trip to Shenzhen soon. There's a long list of people to meet and things to do there.
The goal now is to settle this over the summer and plan a few months in end of Q3 and all of Q4 in this new school and district of Shenyang – with the goal of getting back to Thailand for early 2022.
But I feel like I have been saying "a few more months to get back to Thailand" for over a year now. In the end of March 2020 as I was going through Chinese quarantine, I thought to myself "just a few months here, the world will open back up, and we can go back to Thailand in fall of 2020". Then extended that to January 2021. Then, summer 2021. Now we are saying January 2022.
This is a super stressful and uncertain time for most of us around the world. We have to kind of go with the flow. Luckily the schools have been cooperative with us without enforcing long-term 1 year contracts, and the apartments do 6 month leases. Maybe that is the future for them anyway – will people trust being long term with anything after the massive shift in society from these lockdowns?
Back to the way it was?
Daily meditation has helped. Adjusting my work and income to be fully online has helped. We are all shifting and adjusting and we just need to come out of this stronger and better than before.
For sure the world is never going to go "back to the way it was". Travel will be more challenging with more medical checks and passports. That, ties into immigration (as it is travel related) and doing business – who really wants to invest in an offline business anymore? Consolidation in industries is a trend too.
Hope you are personally dealing with this trauma as best you can. We are staying optimistic, planning 6 months at a time, and adapting to this new normal.
Many say it is the "end" of the digital nomad. I would agree, for now at least. More and more of my traveling friends are returning to their home countries for long term or in-the-meantime stays.
Why Don't I Just go Back to USA?
I know this is a question I am asked often. And I think of the ending scene of "Blood Diamond" when Leonardo DiCaprio just can't get on the chopper to leave Africa. I've been in China / Asia now since late 2007. Can you believe, it's almost 14 years now. This is where my value is, this is where my network, my business, my brand is.
But yes, the pressure increases as the months pass. Why not just go back to USA? "Just go home".
Yet for now, seems China has us another half year.