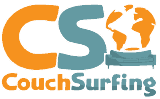 It's strange, to me and to my friends, that I have not earlier been involved in couchsurfing websites, making my couchsurfing.org profile more complete lately. I have been "couchsurfing" for almost as long as I have been traveling, depending on how you define it. And this is why I love twitter and blogging and social media, because you can more closely connect with people as you travel, meet them before you even go to the destination, and more exponentially expand your network!
But this "couchsurfing idea" start partly off the idea that I didn't want to wait for groups of my friends to travel together, as so many times in college we would push friends to travel, and normally people would back out as it got closer and the trip would be cancelled. So I started traveling solo.
My fraternity network – I was one of those fraternity guys who actually utililzed the national network of university chapters, visiting the Delta Tau Delta chapters in Boston, Iowa, West Virginia, Mississippi, and Louisiana (maybe more but I forget) throughout my college career. A few cases below:
Lake George, Upstate New york, Summer 2001 – A fraternity brother in my Stevens Tech chapter, Rich Hattenbach, had his birthday one summer weekend night in 2001, and wanted to get up to Lake George to his friend's summer home, but didn't have a ride. That summer I had my pickup truck down in New Jersey (from Connecticut) as I had to commute to work at AT&T in Staten Island, New York each day. He pleaded me to go, saying I could stay over his friend's summer home too and ride their boat and cliff jump, water ski, and party. So later that Friday night, him, Frank, and I crammed into my pickup and took the 8ish hour drive up to upstate NY and "couchsurfed".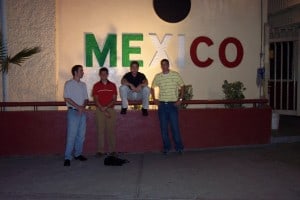 Los Angeles National Fraternity Conference, 2002 – I was of the few fraternity brothers in my university chapter to get involved with national conferences and leadership training, but I think it was a big part of my personal development and networking expansion. The national conferences were every 2 years I went to the 2000 one in Minneapolis staying with my chapter brothers in hotel rooms. But in the 2002 conference was in LA, so I came a few days earlier and met up with other fraternity brothers from other chapters – specifically the brothers from Georgia Tech, such as Scott Taylor. I met him at a leadership training week long program in West Virginia, as well as a good bunch of future leaders. He and I were both going to the national conference in LA, so we thought we'd head down to San Diego and Tijuana, Mexico for a few days before the conference started. I also met his chapter brothers, about 4 other guys, and we had an awesome few days. I remember his aunt had a house in San Diego, and let us crash in the guest house after our wild partying. I think I can define this as one of the first "couchsurfing" experiences where I really didn't know anyone except Scott who I had met a year ago at a conference.
Mardi Gras 2003 – I went to New Orleans solo in spring 2003, as my friends and I always wanted to go. I knew a fraternity brother, Danile Pocase, also who I met at the leadership academy in West Virginia, that was attending the University of Southern Mississippi and was about a hour drive (I believe) from Tulane University in New Orleans where he knew brothers in that chapter. But he couldn't go, so other brothers in his Sourthern Miss chapter were also curious to go to Mardi Gras and drove me with them to visit the Tulane chapter for a party. We knew none of the brothers in Tulane, and really utilized the "hey, I'm a delt brother in another chapter" and got into the party. The first night I stayed on the couch in the brother's room (living room) but I met a cool guy there who had an off-campus apartment (4 bedroom) that was also closer to the Mardi Gras celebration and invited me to crash his couch. Spent a week there, and then returned to New Jersey. Met so many people there, and still have contact with a bunch (thanks to facebook, linkedin I have re-connected with others too).
Backpacking in Europe Summer 2003 – This trip I won a scholarship from the National Italian American Society for a "cultural submersion" program they sponsored each summer to have Italian American university students go to Italy and experience and connect with their culture in the "motherland". It was a 2 week (or 10 day?) trip and was awesome as there were 2 people from each state attending, and I made contacts all across America, as well as in Italy. But I was able to extend my return ticket a couple weeks and backpacked on my own further into Italy. Crashed at my cousins house in Trento, Italy, also meeting various backpackers in hostels, sharing apartments in Nice, France – really was exposed to people of all kinds of cultures and backgrounds…and really expanded my mind. Also, note that this backpacking trip was supposed to be with my college friends, but all backed out for different reasons, so I decided to solo. So glad I did still go.
Cross Country roadtrip summer 2003 – Was supposed to be my hometown friends trip, but only Scott Katin and I went. He had his chevy s10 pickup and he drove from Connecticut to Manhattan NYC to pick me up, and drove all the way to San Diego California and back…..sometimes crashing at friend's couches along the way, some hotels, and sometimes camping. Amazing trip I will never forget, and actually a lot of the photos he took are used on my site still!.
I did some Jamaica trip in summer 2003 with Tayan, but stayed in hotels, I went to London for a new job training for Deutsche Bank, but they put me in corporate apartments. Still, while it may not be "couchsurfing" its still traveling and networking, experiencing cultures and perspectives. These trips defined me before I started my corporate life at Deutsche bank from fall 2003 to spring 2007.
2008 to 2009 was a little bit of that, but mostly I was stationed in Shenzhen, China opening my office and starting my China sourcing company..that I started to realize I really belonged more to the internet world, and fixed offices were not for me.
Almost 30 years old now, and still finding out about myself. Takes time, and hopefully all of us in life spend time exploring who we really are.