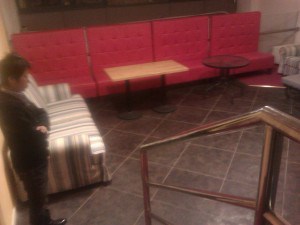 Not even a couple months ago I was stressing about how to deal with the future of the current SZteam coworking space in High Tech park. Like I had said, the space moved faster than I was prepared and I tried my best to backtrack and make it work
This time, I am doing it differently. Last week at Christmas Eve dinner my friends Marshall, James, Chris, Tully, Erik and others were talking about coworking space, shared office. People really do need this service. Many are tired of working in coffee shops, bars, home offices.
I remembered many times I had talked to Mark Wong, owner from Sidewalk Cafe (now called Sorrelle Cafe) in Rose Garden 2 commercial district about a coworking space. He has a nice open 2nd floor of the coffee shop which he has utilized for a few other things. He rented it out to a company before, and he also used it for some sort of Chinese daycare / training center.
I also didn't push too hard in the past conversations with him as the past couple years I have been traveling so much between Philippines, Dongguan, Shenzhen, Hong Kong how could I have committed to this local business venture.
But now the stars seem to have aligned
Mark and the other owners of Sorrelle cafe currently have the 2nd floor vacant, the daycare center they say was too loud. Also, the zoning on the 2nd floor didn't have proper fire escape. Currently they are looking for a new tenant.
I am so lucky that on Christmas eve after talking with Marshall and others, James and I walked down the street to see what the deal was.
Below is what we are currently negotiating with them:
2nd floor
Shop #30 Rose Garden 2

Cafe hours from 7am to close at about 1am
Monthly cost for 2nd floor, 5,000rmb / month
VIP card for cafe food, drinks
Need air conditioner in conference room
Coffee shop lease is for 2 more years
Sign one year contract , maybe can do 6 mo
If 24 hour access, maybe need cafe staff working onsite….have to know who is who.
Second floor office size *************
Pro for this Shekou Coworking
Basically its ready to go
Will meet many more people in the area
Flexible in terms, know the owner / management for years
Seems like a reasonable price
Already have enough members that pretty much cover costs
Con For this Shekou Coworking
Seems a bit small
Mostly in foreigner area – mostly will be foreigners there – I want to deal more with Chinese since I'm in China!
Shekou is pretty far from Futian and Luo Ho, will this alienate those people?
Being inside a cafe, will we be able to make / bring our own coffee / food?
But all in all, I think I am ready to take this jump….I've been working inside Chinese Foreign Trade office lately, but miss the openness, friendliness of an open office…
I think this is destiny, and will confirm more this week.
Comments / feedback please!
Here is a video I recorded: