My whole life I have always been told I need to focus – and that saying "jack of all trades, master of none"…..but I just don't listen…..I love being out of control, overwhelmed, and overworked That is what I loved about Deutsche Bank days on distressed debt….the insanity, the energy….too many phone calls to answer, information overflow……the hustle….making 2 pieces or people fit together when you have a square peg and a round hole!
Here are some of the recent projects – incredible how much time, energy, and passion needs to be dedicated to get each one of these off the ground…..
Electrapour – mountain load of work – but this is wicked cool – a pour spout that lights up when you pour a drink! Just got the hand made sample 2 days ago, hoping to do some pre-sales soon.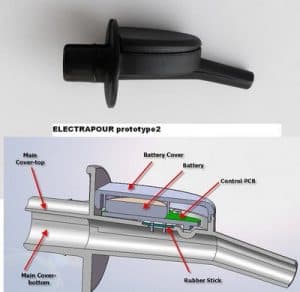 Liquid Revolution Muddler the first product in a series of high end cocktail tools – Shawn Soole and Andrew Moran on the Western Front, I'm here in China working with my staff and factories to make this happen.
Spyble.com a new project i'm getting pretty deeply involved. Still at the beginning stages, but a WEB SEO platform to keep track of your competitors vs. your own website.

Seeing this come to life makes it all worth it….now if I could just start making more cash flow.