FUJIKAM 812D Mini Smart Cloud Camera
Who wants to worry about network maintenance? No one. Who wants to purchase additional storage for the captured videos?  No one. All of these problems are non-existent when you have the FUJIKAM 812D Mini Smart Cloud Camera.
How does FUJIKAM 812D smart cloud camera work?
A user can only access the cloud camera through a central website. A cloud camera is created with simple design and elaborated security system. The ecosystem of a cloud camera does not accept an interception from a third party software or products.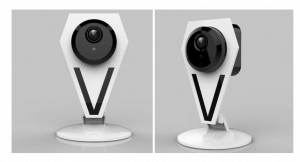 The owners of a cloud camera can access the videos from wherever geographical location they are. Moreover, what's making a cloud camera excellent is it can be updated. The cloud-based cameras are available for upgrade the server analytics are looking for functionalities or security specification to upgrade.
The factor you have to consider is the cost but, with the flexibility of FUJIKAM 812D Mini Smart Cloud Camera made the technology easier and reliable. This cloud camera is equipped with the features of a security camera, and know more of its outstanding specifications in the FUJIKAM 812D Mini Smart Cloud Camera review.
Every product in the box is well-made. The package includes FUJIKAM 812D camera, one power adapter, and one user manual. The camera is only for $36, very affordable, right?
The FUJIKAM 812D Mini Smart Cloud Camera is easy to set up. There are only three steps to complete: download the MIPC app, follow the instructions, and the configuration appears in a matter of minutes.
FUJIKAM 812D Mini Smart Cloud Camera Review
The essential feature of the FUJIKAM 812D Mini Smart Cloud Camera is the notification settings. It has a smart motion detector that sends off an alarm when there is an abnormal intrusion. The MIPC receives a notification when the sensor detects abnormal motion and at the same time records the situation.
The cloud Camera records a 720p and 960p resolution at 25 frames per second. It can deliver a pristine video with its ability to adjust the contrast, brightness, sharpness, and saturation of the image. You do not have to worry about a blurry video with FUJIKAM 812D in total darkness! It has a 9-dot matrix infrared light that perfectly works in a 10-meter IR distance.
The cloud footage supports on a computer, tablet, and phone. You can view your videos wherever and whenever you are. The FUJIKAM 812D Mini Smart Cloud Camera has two-way audio. It has AAC audio compression, and an input and output built-in microphone and speaker. It can denoise and cancel echoes with its professional telecommunication chip processor.
FUJIKAM 812D Mini Smart Cloud Camera has a micro SD card slot that can support up to 64GB. But, you do not have to worry because the videos are in the cloud storage.
This cloud camera has an excellent performance. It provides a high-definition, clearer and crisper video made by the Hi-Vision AR lens. Its two-way audio communication and highly customizable settings provide an excellent user experience. FUJIKAM 812D Mini Smart Cloud Camera is the best security provider for our homes.