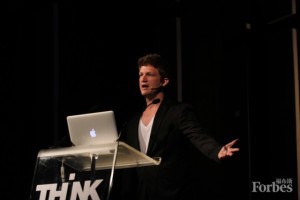 Podcast: Play in new window | Download
Subscribe: Apple Podcasts | Android | RSS
This show was originally posted on
Forbes China (in Chinese)
and I will share it to the English audience here after it is published in Chinese Forbes.
Welcome everyone to the Forbes China entrepreneur show – this is our first show and I am so excited to start this journey with all of you listeners here today. We will take entrepreneurs doing business here on the ground in China risking it all to build their businesses. Today for our first episode we have Zach Hoeken – a co-founder of Makerbot 3D printing which is a pioneer in 3D printing in USA. He's based in Shenzhen, China for many years now and we're excited to have him on the show talking about his experience starting Makerbot as well as his experiences in business in China so let's listen in!
Topics Covered in this Episode
Introduce Zach Hoeken
How did you get started with Makerbot Industries? In 2008 / 2009
Heard in generator conference no one in the founding team had hardware experience when you started, can you share with us on that
Also remember you said you bootstrapped by selling smaller parts to keep going, can you share with listeners
How did you initially get to China?
How do you see the hardware market in 10 or 20 years?
Coolest thing you have seen 3D printed?
Advice for a fresh entrepreneur coming to China
Contacting and reaching out to Zach
People / Companies / Resources Mentioned in this Episode
Makerbot 3D Printers
Reprap 3D printing
Generator Conference 1.2
Shenzhen Maker Faire
Cashflow and Income streams – critical to early stage company
Components – Sometimes selling smaller pieces relevant to your business can keep you afloat in cashflow tight periods
Looking glass product
Haxlr8r
Hua Qiang Bei (HQB) – Massive electronics market in Shenzhen, China
Taobao Chinese online C2C (consumer to consumer) marketplace
Kickstarter
Lazer Centering Machine
Injection Molding Machine
Self Driving Cars
Drones
Robot Arms
3D Printed Teeth
Contacting Zach – Twitter – @hoeken
Episode Length: 25:45
Thanks so much Zach for being on the show. Again, this is a brand new show on Forbes China – I am so excited to have this chance to share the stories of many successful hardworking entrepreneurs risking it all in China to build long lasting successful companies. All feedback and topic and interviewee suggestions please visit mikesblog.com/forbes and fill out the contact information there. Thanks again and have a great day!
Download Options
Direct Download: Right-click here and click "Save As" for a direct download
iTunes: Listen and subscribe on iTunes for free!
Android: Listen via Stitcher Internet Radio streaming (coming soon)
If you enjoyed this episode, leave a positive review on iTunes!