Typing this on the road in Beijing Airport – and I am not regretting carrying all this stuff. I use them almost daily – minus some of the wires / USBs – but they do help a lot
I posted this photo on my social media a couple weeks ago and got a ton of feedback and Will Lee suggest I make a blog post about it – so here goes a breakdown of the electronic (geek) stuff I carry.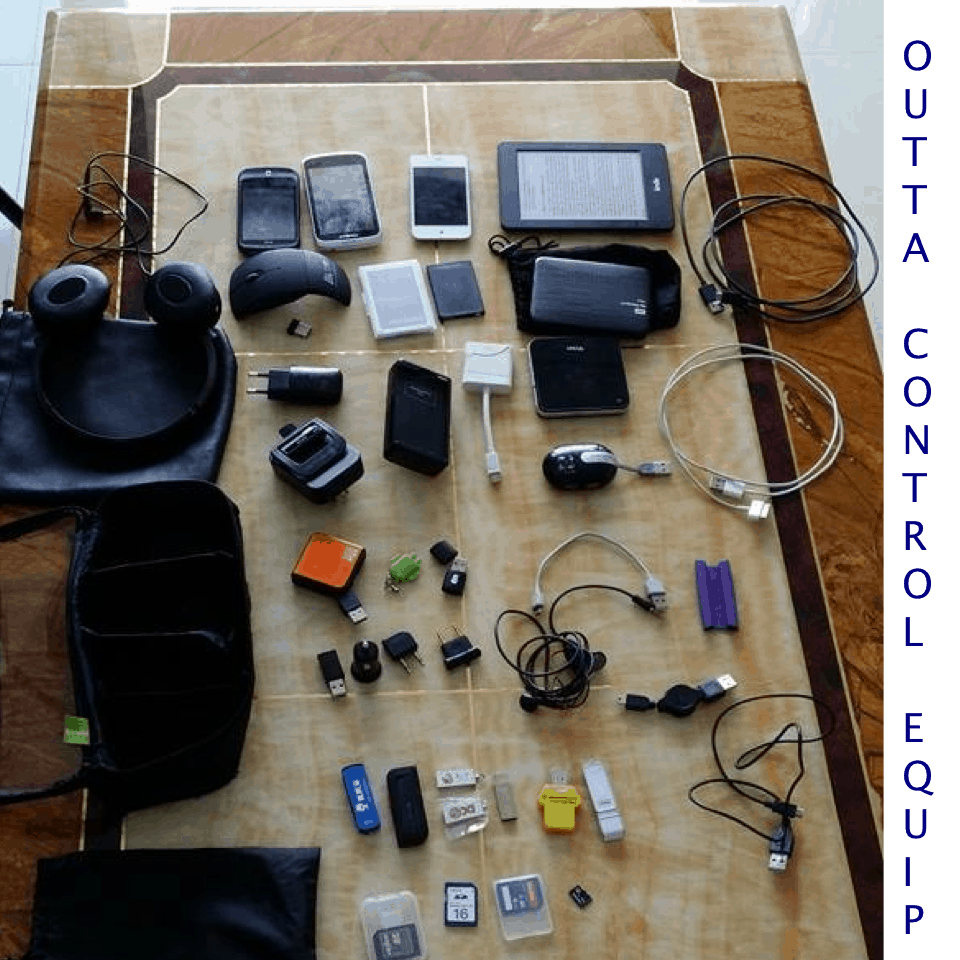 Mac Air – (not in the photo). But love it for video and audio work. Also love it for Alfred shortcut keys.
Samsung Note 3 – (not in photo (used it to take the photo)) – love it – it replaces a digital camera and video camcorder – the resolution is so high! I only keep my HK sim in it, never switch SIM cards. 2G in Mainland China, 4G in Hong Kong.
HTC wildfire– an old android I use for my 7 year old China mobile SIM card. It is not "China android" so it has Google services on it – so I can sync my contacts to Google contacts and calendar. This phone number I have on all my business cards. GSM
Coolpad Chinese Android phone – no google services allowed. But it is my 3G SIM card, and I only give this number to family. Primarily used as a wifi hotspot while in Mainland China. CDMA and GSM dual sim – but it doesn't seem to really work – so just use it for the CDMA 3G SIM on China telecom, not the GSM for China Mobile network.
Apple iPod – use for listening to Podcasts and sometimes mp3 music. Can't find a good app in Android to listen to podcasts. Plus when I open other apps it seems to crash the app playing the podcast. So have gotten used to having a separate device for listening to content and an android device for writing notes in evernote while I'm listening. Listening to audio learning books on Chinese too.
Amazon Paperwhite Kindle – love this ! For reading outside, or just to focus on reading. Sure there is the kindle mobile app – but I like to have this dedicated machine with a very comfortable screen to read from. I have read so much more since getting this.
Western Digital 1 terabyte external hard drive – doing this video and audio on a Mac Air laptop is painful – as I am constantly filling up the hard drive (120 gig capacity) so I picked up this 1 terabyte external hard drive and I don't have to worry about diskspace anymore. constantly connecting it and moving audio and video files I am making over to it. A bit worried it isn't syncing to the cloud though.
Audio-technica QuietPoint noise canceling over the ear headphones. Love these. I'm not a fan of earbuds, just not comfortable. Also the noise canceling is a DREAM as a business traveler in China. I flip the switch on when in a noisy airport or train station as kids are screaming and babies are crying around me. Love it. Consume content so much better. I think people see me as a college student playing techno music, but I'm in a airport learning tons of new business tactics while in security checkpoints.
Replace Backup battery for Samsung Note 3 – I burn through batteries. So if I'm on the road, I'll most likely be seen flipping the battery out of my Note 3 mid-afternoon if I haven't been able to find a place to charge it. When I was on a Note 2 I had 3 batteries, but the battery life on a Note 3 is much better than Note 2 – so I can get away with just 2 now. Also iPhone doesn't let people do this ….
Dedicated charger for Note 3 backup Battery – Super fast charging dedicated device to fit a Note 3 battery – I plug this in during meetings or at an office and charge up the 2nd battery. Also try certain reminders to know the 2nd battery is out by putting this in a front pocket.
External battery charger – More of a 1 size fits all battery charger – haven't been using this now with the dedicated Note 3 charger, but keeping it around. Also has a USB jack so can be used as a wall charger for any device with micro-USB
Infrared wireless mouse – a gift from Tencent when doing some training there. This is a pretty cool portable folding USB in mouse for when I know I'll be doing some heavy, multi-hour work when on the road.
Vtion wifi hotspot – if the Coolpad phone dies from too much tethering, I can switch to this hotspot – both use CDMA SIMs
Rapor Bluetooth keyboard – I was using this for over a week while my Mac Air was being repaired in combination with my phone. But it definitely helps me type faster when on the road and not using my laptop. Have written entire blog posts from it.
Apple to VGA adapter – for presentations, think most Apple users know they need this adapter. constantly using when in meetings or at events. Put a sticker on it to try to have people forget it.
Massive external battery – a friend manufacturers this – it is a BRICK – but can charge my phone 4 times over!
USB splitter – a 1-4 USB splitter – not for charging though, for syncing. Haven't used it much when i found out I can have 4 devices charging at once.
Small bag of USB drives and micro-USB cables – some say this is crazy – but I have tons of freebie USBs as backups. Also at events and in crazy situations I'll pass a few out to have people share files all around quickly.
Paper notebook & pen – still need to carry a good old paper and pen for writing and brainstorming. Use it when I'm on a skype call and I don't want them to hear my typing in the background on my laptop. Also use on planes when they don't let me use electronic devices.
Also, I think it is to note this is semi-normal in Asia. Hong Kong I have heard there is an average of 3 phones per person. In China at least 2 as well. I think its for a lot of reasons. I honestly like to keep separate devices – to control what I am working on. I know there are some apps to separate things- but the reality is I am aware a mobile phone is also a tracking device – but companies and governments. So knowing that, I'm not paranoid, but like to say – I am aware.
I have already had some entrepreneurs message me about some of their solutions – hopefully this blog posts sheds some light on it and I would love to hear from you.
I like to keep a record of all the chat in various social media (especially since Facebook and others hide it so well) and it is good to document and learn from for those doing product development – so here is some of the comments below. Tencent wechat moments comments are almost impossible to copy/paste the comments unless I type them 1 by 1….
on Facebook
It's getting outta hand… I carry all of this with me every day, plus my Android I am using to take this photo
Armando Nunez II Wow Michael!, June 18 at 10:18am
Jacob Miller looks like mine, but more cables and no over the ear headphones, June 18 at 10:19am
Jeffrey Broer That's not "traveling light" June 18 at 10:27am
Andrew Moran https://www.youtube.com/watch?v=DZJV37oibhc Video Commando Gearing up Essential from Commando gearing up June 18 at 10:28am
Will Lee What about all the candy and food you put in your backpack and where's your laptop? And your water? June 18 at 10:30am
Robert Lam At least he managed to find all the cables and plugs June 18 at 11:11am
Brian McKeon you must have quite a large purse June 18 at 11:31am
Rosemary Matey Coates You are going to have to carry Miles in your backpack, too June 18 at 11:34am
Andrew Leyden My shoulder still hurts from the one time I tried on your backpack six months ago. June 18 at 11:35am
Greg Hale PHEW! Thought I was bad! June 18 at 11:36am
Romeo Ybañez You need a back pack. June 18 at 12:35pm
Michael Michelini ya, I have a pretty sweet backpack Will Lee helped me at TimBuk2 in SF – pretty sweet that they exchanged the broken one i had been using for 2 years already!!! June 18 at 1:04pm
Will Lee When this current backpack breaks, you know you can exchange it for another new one. I still have my Timbuktu Message nag which I've had for three years, and it's still in good condition. Bit, I don't pack it, nor lug it around everyday. June 18 at 1:07pm
Rene Villeneuve time to consolidate June 18 at 1:22pm
Jack Perry Sir, normally we don't exchanges to people abusing the product!! June 18 at 3:13pm
Joshua Galloway Looks like me, I recently bought a Ogio renegade RSS backpack June 18 at 4:15pm
Jason Kyriacou No duct tape? June 18 at 6:26pm
Magdalena Kudlacz White Why on earth do you carry all that with you?? June 18 at 7:04pm
Nina Michelini Weinzierl Wow!! .. June 18 at 7:24pm
Magdalena Kudlacz White So.., what color purse do you carry?? June 18 at 7:29pm
John Strand Most of that is essential for iPhone users. I'm surprised you need it for other products. June 18 at 7:53pm
Elyse Orecchio Is all this part of your job are are you just the ultimate geek, I mean tech wiz? June 18 at 8:10pm
Romy Rangama And I thought I was a gear head ! June 18 at 10:29pm
Michael Michelini John Strand I didn't show the Mac Air in the photo – I use that all the time for those apple products June 18 at 11:10pm
Emily Schlipf Now you have an excuse for carrying that diaper bag June 19 at 12:17am
Toriqul Islam Wow! Lots of things June 19 at 9:00am
Jeffrey David Bussel That's far beyond getting out of hand. It got out of hand a while ago it seems;) June 19 at 11:08am
Shang Song an iPhone + a Mac~:DD June 19 at 11:10am
Tony Chan Less is more … Simplify your life June 19 at 11:44am
Donald Han what 1 thing, would u grab, if u had to fly to thailand beach in 20 minutes, no prep time? thats all u need, rest is there already… June 19 at 6:40pm
Michael Michelini I guess it would be my Kindle, I am reading so much more with it. And with my ipod I listen to tons more audio books… I am so happy separating devices to increase my productivity… It has gotten me so much more effective… These Facebook update distractions are only on one of the devices haha June 19 at 7:38pm
Paul Tittmann howz baby? howz momma? baba not important..( now….later , yes)
June 20 at 9:05am
on instagram
It's getting outta hand… I carry all of this with me every day, plus my Android I am using to take this photo
lakhanilalit What's all this? Why so much stuff?
mikemichelini @lakhanilalit deal with multiple Sims, also separating my workflow by device to better manage time and be productive
on twitter
It's getting outta hand…I carry all of these electronics every day, plus my Android to take this photo
Sarah Li Cain @slicain Jun 18 .@michelini why so many phones?
@michelini Jun 18 @slicain (1) China mobile number since 2008 [but no 3g] (2) China telecom 3G internet & backup number (3) Hong Kong roaming
Chi-Wai Li @ChiWaiLi Jun 18 I know the feeling. One of these helped a tiny bit http://www.cocooninnovations.com/cat_info.php?cat_id=61 …
Sarah Li Cain @slicain Jun 28 lol I'll stick my two phones. One for internet, and the other with dual SZ and HK sim card.
michael michelini @michelini Jun 28 @slicain true… My dual sim China Telcom is just not cutting it.. Supposed to be dual band CDMA and GSM but failing