What Mike Michelini is up to Now – Dec 26, 2021 – Jan 1, 2022
Listen as audio here [almost 3 minutes long] (or scroll down for text)
We survived 2021, another insane year of chaos and change. But with chaos comes opportunity and we are working as best we can to adjust and change for the new normal.
Last week of the year – not sure what it is – but I feel like EVERYONE in Shenzhen wants to meet this week to talk about business deals and opportunities.
Still post-typhoon nightmare – but much better than last week. Working towards disaster recovery process, backups for all roles, and a rainy day fund.
Blimp Method webinar – Meir and I will be doing it Wednesday Dec 29 at 8pm HK time, RSVP here.
Indigitus is so close to announcing this week. I know delay after delay but hope to really show it this week.
Overall year-end reflection and new year "resolutions". So much in the works.
For those who want to hear the full week plan for Shadstone Limited, Mike's company (removing sensitive info) – here it is:
Dec 26, 2021 – Jan 1, 2022 Week Plan Shadstone Limited
The final stretch of 2021! Let's make it – survive – and thrive (based on our GFA campaign for year end – https://events.globalfromasia.com/2021survivor/ )
(rest of week plan follows after NFT image)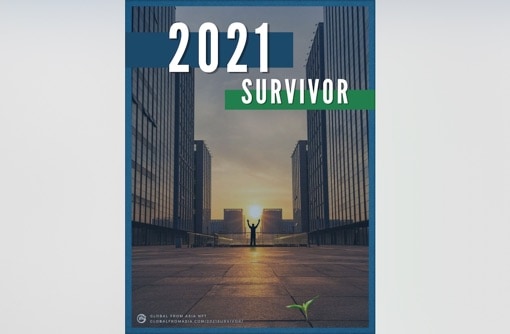 The typhoon really came and hit us bad but we are re-grouping and will come back better and stronger than ever. It identified some holes in our team where we are too dependent on 1 person to do a critical task – and while we were even aware of that in the past – we cannot just simply keep delaying – all of us need to be able to take a break from the workflow and the company must still operate as normal.
So we are re-structuring some of our IT flow and management practices to better be ready for anything. Such as a VPS, GitHub, training more on the team for various tasks even as a secondary role, and more.
Again, this sets us back (we are still recovering on some of our projects as we still need to re-position websites, etc) in the SHORT term, but will make us even stronger long term.
We, Shadstone, decided we want to GROW in 2021, we want to be a bigger team – and that means developing more and more leaders – and having multiple people who know how to do all our core tasks and processes. And this nightmare of a typhoon just before the holidays is an escalation to ensure we do that for all of our members. So let's think of that as the one positive out of the destruction it has done to many of our team members and our projects.
Moving onwards and upwards – of course many of our year end recaps have been postponed, and the HR department we are building is maybe going to have to adjust post typhoon now. We are putting together a disaster recovery process as well as fund to better deal with this in the future as well. Again, in life – we need to do our best to deal with things as they come – learn from them – and improve for the future. And that is what we are doing.
Blimp Method is moving along nicely – this week we'll have a free webinar for the community at large with Meir, our partner in the program, to further EDUCATE people on what it is and why to do it.
We had a nice GFAVIP member call last week, a good core group of people and we are re-adjusting now with Aubrey as our amazing new GFA community manager.
Handshake things – Skyinclude we are having more on our team learn the workflow which is great (and needed), and Flamingo Handshake we settled the auctions, and are generating new ideas and people for the future.
Then Indigitus router video and product demo was delayed another week as our core team member's girlfriend got Covid and had to go to hospital and he had to self quarantine. He is trying to remotely have friends who have access to certain locations and items to help with more footage and it is just another issue after another – but we are more excited than ever.
And I am sure a lot more updates – I am still writing these weekly updates even on the morning after Christmas (Sunday Dec 26, 2021) but may rest my brain a bit more for the rest of the week plan.
The idea, the dream, is coming true. A creative studio, we are building and creating. And we have partners and clients who are on the front of the business – while we are the SHADOW and the STONE (Shad-Stone) that is building and making it happen.
Thank you for being here, please keep learning, keep making things happen – and let me or others on the team know if you are in any need of support or training. We are in this for the long term.
Podcast: Play in new window | Download