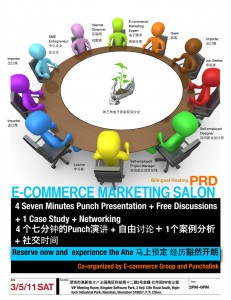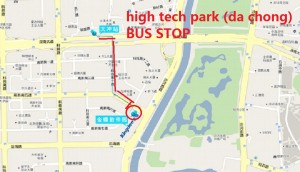 Since we had such a great turnout and positive interest in continuing the regular meetings, we are currently looking into the best date and location for the next events.
The 2nd meetup is coming after Chinese New Year, on March 5, 2011, still at Kingdee Software Park.  We will have these to speak and one case study this time.
– Jeff  will speak on email marketing
– Huck Liang will speak on international payment settlement
– Jon Buford will speak about Internet coworking space 
– Mike Michelini will speak on helping factories & trading companies get more leads via their website.
Event description:
 – Event Name: PRD E-commerce Marketing Bilingual Salon
– Time: 1pm~5pm, March 5th Sat, 2011
– Participants: E-commerce Experts, Geek, Exporter&Importer, Self Employed Designer&Project Manager, Job Seeker, SME Entrepreneur, Internet Observer, Learner and VC.
– Content: 4 to 6 seven minutes Punch Presentation + Free Discussion + 1 Case Study + Networking
– Organizer: Co-organized by Shenzhen Online Marketing Group and Punchalink
– Mission: Facilitate the communication between Western e-marketers and Chinese entrepreneurs; create platform for e-Commerce knowledge sharing and program presenting; create hub channels for e-marketers to coordinate with programmers, designers etc.; create platform for VC to interact with program leaders and entrepreneurs.
– Venue -VIP Meeting Room Block-A Kingdee Software Park, 2 Keji 12th Road South, High-tech Industrial Park, Nanshan, Shenzhen
Transportation: Map to the exact location is attached and here are the nearest stops: Bus station: Da Chong / Subway Station: Hi-tech Park
– Dress Code: Smart Casual
– For reservation, please email to punchalink@gmail.com or call 13923795502.
活动说明:
– 活动名称: 珠三角互联网营销双语沙龙
– 时间: 1pm~5pm, 2011年3月5日, 星期六
– 参与者: 互联网营销专家, 极客, 进出口商, 自由职业设计师&项目经理人, 求职者, 中小企业主, 互联网观察者, 学习者, 风险投资.
– 内容: 4至6个7分钟Punch陈述+自由讨论+1个案例分析+社交时间
– 组织者: 深圳互联网营销群组&Punchalink
– 活动使命: 促进中外互联网创业者之间的沟通; 创建互联网营销知识分享的平台; 创建互联网营销策划师与项目经理人的对接渠道; 创建风投与创业者之间的互动平台。
– 地址: 深圳市高新技术产业园南区科技南十二路2号金蝶 软件园VIP会议室
– 交通: 详细交通图见附档; 公交站台: 大冲 / 地铁站台: 高新园
– 着装建议: 商务休闲
– 预定请email至 punchalink @ gmail.com或致电13923795502.