Win Free Tickets – My friend and Advisor Steve Forte is coming to Shanghai Sept to be a Keynote Speaker at the Scrum Alliance Gathering. Really wish I could attend myself but I'll be traveling in USA.
So, How to win? Read on, my friend!
Event details can be found here
Official Event Website is globalscrumgathering .hk (not online anymore)
What Is The Scrum Alliance?
Scrum Alliance® is a membership organization that encourages and supports the widespread adoption and effective practice of Scrum. We are an organization of more than 400,000 members around the world, and more people joining every day, you always have peers ready to connect and collaborate. Become part of something bigger than you alone. Scrum Alliance® brings you together with like-minded people who are passionate about Scrum.
How To Win Free Tickets?
They gave me 2 free tickets to give away online, if you send me an email at site @ michaelmichelini.com with how you are using Scrum for your tech product or startup, Steve and I will review them and select the top 2 from this blog. (we also have one going on in Wechat too). This is for the event only, you are responsible for travel and accommodation.
Need to receive the emails no later than Monday Aug 17 midnight Hong Kong time.
When & Where Is This Shanghai Event?
An action packed 2 day event in mid September. It is Monday September 14, 2015 through Tuesday September 15, 2015.
It will be at the www.shangri-la .com/shanghai/pudongshangrila/reservations Pudong Shangri-La
Can book tickets online or call the hotel directly at (86-21) 6882-8888 and mention the group code ELA110915 to secure a guestroom at the negotiated rate of RMB 1,250 Single/ RMB 1,450 Double per night + service charge/taxes.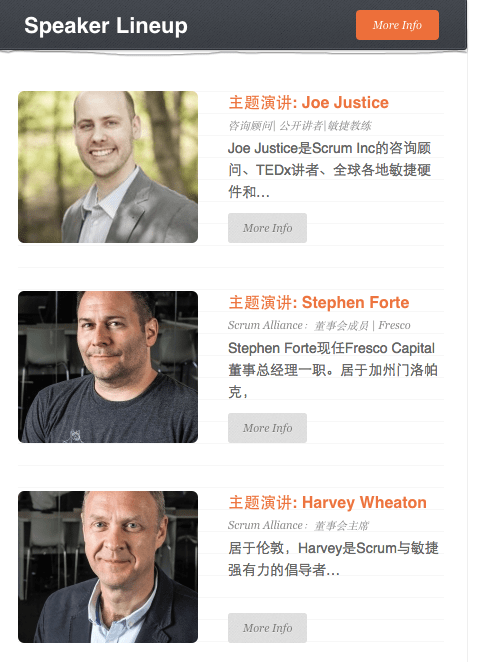 Scrum Alliance Day 1: Monday Sept. 14 Sessions
10:30 AM – 11:00 AM: MORNING BREAK
11:00 – 12:00 PM: 60 MINUTE SESSIONS
Session & Speaker
Track
Room
Smart Devices Fast Iteration
Small
Beijing
Terri Tao
Scrum as a pedagogical tool in vocational education in Finland
Large
Changchun
Otto Burman
Scrum Team CRM: Aviation Crew Resource Management Techniques for Scrum Teams
Medium
Dalian
Thomas Friend
Cracking Enterprise Buy-In: Boundaries, Footholds, and Critical Mass
X-Large
Nanjing
Anthony Montgomery, Jodi Makela
Lessons Learned from Scrum Adoption in Saudi Arabia
Medium
Qingdao
Mohammad Nafees Butt
Agile as a Mindset**
Small
Shanghai
Wei Wang
Large Complex Systems Delivery With Release Train Model and Program Kanban
Large
Shenyang
Minglan Wang
Rise and Downfall of a Large Scale Scrum Implementation
X-Large
Suzhou/Wuxi
Michael Chik
12:00 PM – 1:30 PM: LUNCH
Monday: Sept. 14 Afternoon Sessions
01:30 PM – 3:00 PM: 90 MINUTE SESSIONS
Session & Speaker
Track
Room
Project Nightingale: How An End-To-End Mobile Health Solution Went from Paper to Tablet in 11 weeks
Medium
Beijing
Ashutosh Chatterji
Villager Mafia'   – An Activity to Promote 'Transparency'
Large
Changchun
Gaurav Rastogi
Practical Reporting Metrics for Agile Projects
Medium
Dalian
James Chong
How to "Scale" Scrum without "Scaling"
X-Large
Nanjing
Jimi Fosdick
Star Wars, Scum and Story Mapping
Medium
Qingdao
Matthew Hodgson, Mia Horrigan
The Five Dysfunctions of an Improvised Comedy Troupe
Small
Shanghai
Daniel Attfield, Paul Hammond
Experience the Power of Coaching in an Agile Context
Large
Shenyang
Evelyn Tian
Developing Internal Agile Coaches**
X-Large
Suzhou/Wuxi
Yi Xu
03:00 PM – 3:30 PM: AFTERNOON BREAK
03:30 PM – 5:00 PM: 90 MINUTE SESSIONS
Session & Speaker
Track
Room
Self Organizing teams – Myth or a powerful tool?
Small
Beijing
Narasimha Reddy Bommaka
Exploit Core Scrum Practices at the Program Level
Large
Changchun
Jeff Lopez-Stuit
Learning 3.0 – Relearning to Learn
Medium
Dalian
Anderson Hummel, Manoel Pimentel
When Your Agile Transformation Team *Is* The Primary Barrier To Your Agile Transformation
X-Large
Nanjing
Daniel Gullo
How serious play leads to breakthrough innovation
Medium
Qingdao
Cedric Mainguy, Sylvain Mahe
Escape top emotional intelligence traps and hack team culture
Small
Shanghai
David Papini
LeSS is natural**
Large
Shenyang
Yi Lv
High-Energy Agile Transformation using Open Space Technology
X-Large
Suzhou/Wuxi
Stuart Turner
Day 2: Tues Sept 15
09:00 AM – 10:00 AM: 60 MINUTE SESSIONS
Session & Speaker
Track
Room
Scrum Values Playbook – where synergy begins.
Small
Beijing
Stephanie Bysouth
Agile from the other end of the phone line: Successful Agile in distributed team
Large
Changchun
Jacob Creech
Travelling light – The pros and perils of lean documentation
Medium
Dalian
Angie Doyle
Scrum-ish: Agile for the Whole Organization
X-Large
Nanjing
Keith Nottonson
Sun Tzu and the Art of War: Applied and Scalable Simplicity for Medium Sized SCRUM
Medium
Qingdao
Daniel Doiron
Zeros to Heroes: A Three-Month Experiment in Success
Small
Shanghai
Jodi Makela, Anthony Montgomery
My Scaled Agile Journey: LeSS**
Large
Shenyang
Qingyu Li
Scaling Agility Explored
X-Large
Suzhou/Wuxi
Ran Nyman, Ari Tikka
10:00 AM – 10:30 AM: FLASH TALKS
Session & Speaker
Track
Room
Scrum in a Chicago High School Biology Class
Small
TBC
Ebony Nicole Brown
Lean Startup for Agile Product Managemen
Medium
TBC
Manik Choudhary
Tricks on distributed scrum team
Large
TBC
Zhe Huang
The Exorcist Was a Sprint Planning Master
Medium
TBC
Jeff Lopez-Stuit
How do self-organization live up to and not live up to agile transformation?
Small
TBC
Bin Qiao
'Why' Is Important than 'How'
Large
TBC
Gaurav Rastogi
Gamification: Do we need Team or Individual?
Large
TBC
Arijit Sarbagna
My journey to become a CST
Small
TBC
Jim Wang
11:00 AM – 12:00 PM: 60 MINUTE SESSIONS
Session & Speaker
Track
Room
From Scrum But to Scrum Plus
Small
Beijing
Gilbert Villanueva
Concrete Experimentation in Scrum
Large
Changchun
Bernd Schiffer
Toolbox for Agile coaches: when working with your people
Medium
Dalian
Ethan Huang
Scrum Economics: Contracts, Budgets, Capitalization
X-Large
Nanjing
Pavel Dabrytski
If your User Story Came Alive !!!
Medium
Qingdao
Kalpesh Shah
Empowering Teams for the Best Architectures, Requirements, and Designs
Small
Shanghai
Emre Pekkaya
The Customer CAN always be right –
Large
Shenyang
Maria Matarelli
Let the right one in – Recruiting for Scrum
X-Large
Suzhou/Wuxi
Lenka Bednarikova
Tuesday: Sept. 15 PM Sessions
12:00 PM – 1:30 PM: LUNCH
01:30 PM – 3:00 PM: 90 MINUTE SESSIONS
Session & Speaker
Track
Room
Kaizen in Scrum Workshop
Medium
Beijing
Kiro Harada, Miho Nagese
Coaching Anti-Patterns and common smells
Large
Changchun
Sekhar Burra
back to the basic — "how do both process improvement and quality assurance work in Scrum framework?"
Medium
Dalian
Jim Wang
Agile yes, but why?
X-Large
Nanjing
Philipp Engstler
Agile UX is Good, But Can Be Better
Medium
Qingdao
Zhenyu Liao
Exploring Approaches and Challenges in Enterprise Agile Scaling
X-Large
Shanghai
John Okoro
The Facilitator's Toolkit: 12 tools to get results and build a team!
Large
Shenyang
Sylvain Mahe, Cedric Mainguy
Helping Agile Transformations with ADKAR
X-Large
Suzhou/Wuxi
Ebony Nicole Brown
Interested in The Scrum Alliance Event & Want To Learn More?
Event details can be found here:
http://www.eventbrite.com/e/scrum-alliance-global-scrum-gathering-2015-registration-17937962930
Official Event Website is http://globalscrumgathering.hk