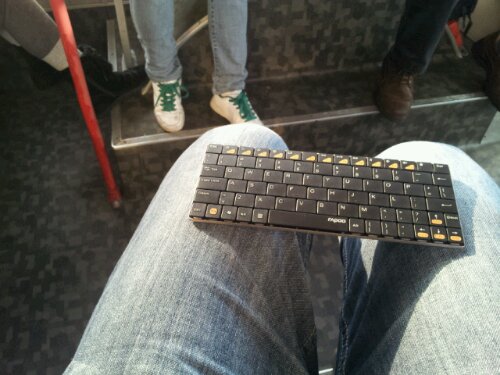 Truly amazing…typing this full blog post from my new android bluetooth keyboard on my way between offices. My latest battlegear:
Samsung galaxy note mobile phone
– bought a couple weeks ago for 5,300hkd (about $700usd) with a 1 year contract at china mobile hong kong (monthly phone bill is 68 hk dollars a month for unlimited Edge data planin hong kong plus 1,000 minutes per month inside hk)
Rapoo android bluetooth keyboard
– 280 chinese reminbi, or about 40 us dollars. Just got this todau in hua qiang bei electronics market, shenzhen
Two backup batteries
– 50 rmb each for total of 100 chinese yuan (about 15 us dollars)….not as long lasting as the original, but lasts a couple hours each if I am using the screen a lot.
Battery life is definitely the variable holding back development of this 'mobile revolution'…. I am going to try my best to use my laptop less and less
Using the wordpress mobile application to enter this blog post, and typing from the bluetooth keyboard…..when i was in the market today….some shops confused me, as there were ipad only bluetooth keyboards, and other bluetooth keyboards only for pcs
My buddy Dave Ho has his computer now setup to connect to the television at home, also using a bluetooth keyboard to control it….
Things are happening so quickly. I know soon Google will have those terminator style glasses, where you can look at things and search online, with face recognition to see your counterparty's facebook profile and linkedin.
The future is here, and instead of resisting it like my friends are….we need to embrace it. We are turning into our parents….complaining about technology….but the new generations are growing up on social media and mobile web…we need to keep up with the pace.
To me, this is simply amazing, I am traveling to Hong Kong tomrrow with just these devices, and power chargers.
Set yourself free!!!