What Mike Michelini is up to Now – March 27 – April 2, 2022
Listen as audio here [1.5 minutes long] (or scroll down for text)
(In photo – attempt to cut my own hair, as cannot leave to go to barber (download full res image here)
Another year and a birthday in lockdown. Just really hard to fathom and trying to mentally prepare for 2023's birthday. But do hope I can be released from my friend David's apartment this week so I can celebrate with my wife and children.
What are the highlights:
* Ecommerce, web3, nft metaverse – post HandyCon has me even more motivated to build on the future internet. Had an SEO call with Anne about our web2 domains, but all I can think about is the new internet.
* Excalibur Brothers – continue pushing ahead on the production of the first 4 products
* NowShenzhen – SOP and workflow, advertisers, adding aggregated content
* Indigitus / hardware – trying my best to keep current ambassadors engaged with limited information during this long negotiation period.
* Clients – being more selective, making a more complete package of our services – which is content and branding for ecommerce businesses. And also look to partner with, more than pure services, for them.
* Flamingo Handshake – need to prepare for the next one, and escrow names NOW. Also more IT solutions for it.
For those who want to hear the full week plan for Shadstone Limited, Mike's company (removing sensitive info) – here it is:
Week Plan March 27 – April 2, 2022 Shadstone Limited
Hope everyone is motivated and satisfied with their work. And of course happy and healthy in their personal lives too. We need to find balance.
As always, lots going on – but as the theme has been for years – the team is the core. And we are really on a high with the most amazing team yet. So please keep it up, keep learning, keep sticking to the key SLOT values (self learning – YOU CAN learn, things are there from SOPs to google and youtube, Online – we love to work online, anywhere, anytime, and T – teamwork , we need to communicate and coordinate effectively in order to achieve greatness)
As we wrap up the month – and are still finishing up Handycon – (yes one week later still post handycon work) – I feel the trend now (in my mind at least) is going back to our e-commerce businesses and also reflecting on this web3 – and it is getting more and more clear to see:
We have the opportunity to bridge ecommerce and web3.
Jasmine is new on the team for our product sourcing, and I am so happy she is embracing our tools (as many people based in China we have worked with struggle / resist using our western tools, she has been learning it and trying her best). She is also communicating well with others and keeping good track of the product sourcing for Excalibur Brothers.
After HandyCon, got her into sourcing some products for our NFt / metaverse / hns things like the flamingo handshake glasses + other communities (still early to announce publicly)
The idea is – the physical world and this new metaverse world will merge. There are more NFT projects doing "merch drops" (merchandise with their collections) from hats, to hoodies, to skateboards, to collectible cards. I believe we are in a position to connect these 2 – with our ecommerce experience and our web3 and online marketing experience – plus our China sourcing and amazing team – this is a winning combination that I believe is hard for others in the space to replicate.
As always, still super early stage and most people think it is a joke or crazy. But feel this is a new wave that will pop out in a half year or so that will look obvious looking back (I'm often too early, but my problem is sometimes I lose the conviction and then years later it goes mainstream).
Well – that is some "in the head" early stage ideas of what I see the future as. NFTs and merchandise – and holders of NFTs getting these benefits. There is actually a shopify plugin that can check if a wallet has an NFT and gives coupons.
Some updates on our projects:
HandyCon – almost done settling auction, need to pay Ukraine and foundations.
Flamingo Handshake – need to think about next month's – think we should do Wednesday April 20 USA time, Thurs 4/21 our time. Want to start to escrow and promote the names earlier using the tools we have built.
NowShenzhen – Elayne is getting the aggregation going, hope this can get the flow of traffic moving too, the major parts of the business seem to be working, just grow and optimize now.
Excalibur Brothers – still that painful process of the product development, packaging, logistics. But Luciano and Jasmine are working well to get over the hump. The shot glass sample set seems stuck somewhere in Shenzhen due to lockdown, so had another one sent.
New blogJV partnerships – a bit too early to announce public but we are 95% confirmed to partner with an ecommerce brand akitai.com which we did work with a couple years ago, and I think it is a nice brand for our female leaders on the team.
Indigitus – still the bargaining on software dev and hardware integration, but some big big updates cannot wait to share
GFAVIP – will have an online birthday party for me wednesday, also thursday night is our Shadstone team call and hope to have some fun.
GFA Kids – lots of coordination with teachers, really hope we can work on an online system to manage it better. Also the wechat stuff.
A good reminder when talking to potential client
saw this floating around discords and thought i'd put as a reminder for the team: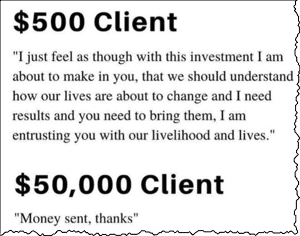 Podcast: Play in new window | Download