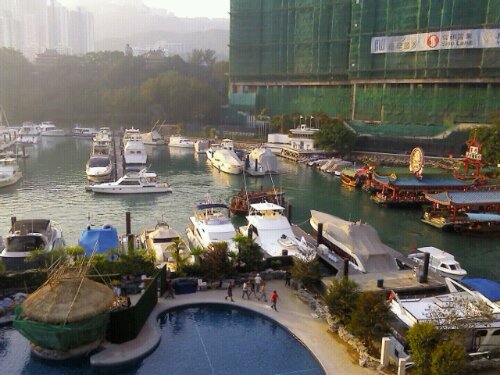 I always put so much pressure on birthdays….i can remember back to being a toddler, wanting the biggest and best mcDonalds birthday party out of all my friends….some birthdays in my 20s were wild nightclub, most of which was in new york city.
Social media has me so in tiuch with every friend i have ever had my whole life, its great to get the facebook wall posts, twitter @ replies, and emails etc…..overwhelming, even my aunt has facebook and sends me messages
i just want to relax, at the aberdeen marine club with gary now, just looking out the window, typing this blog on my tablet, and posting this photo from the window.
Simple life is the best life.
Addition, my aunt Nina is great….facebook (amazing my aunt uses facebook!) and sent this message
Nina Michelini WeinzierlMarch 31, 2011 at 12:22am
Subject: Happy Birthday Mike April 2, 1981 HAPPY 3OTH…
DEAR MIKE,
I REMEMBER WHEN YOU WERE BORN… YOUR DAD WAS SO HAPPY AND YOU WERE SUCH GOOD FRIEND. I REMEMBER YOU AT 2 YEARS OLD AND HOW YOU WOULD SHARE POTOTO CHIPS IN THE EVENING. YOU HAVE BEEN VERY LOVED MIKE….I STILL THINK IT WOULD BE GREAT IF YOU BECAME A PROFESSOR ON A COLLEGE CAMPUS… JOE LIKES HIS COLLEGE IN LYNCHBURG VIRGINA…. HE IS AT LIBERTY…. JACK AND NINA PASSED HIM ON THE I81 HE WAS GOING BACK TO SCHOOL AFTER BEING HOME… ON SPRING BREAK…JOE CALLED US ON HIS CELL PHONE…. WE COULDN'T BELIEVE IT..HE PAST US WITH HIS FRIEND AS THE DROVE BACK TO LIBERTY… PRETTY SPECIAL … GOD'S APPOINTMENT.

WE YOUR FAMILY LOVES YOU VERY MUCH, WE ARE PRAYING FOR YOUR BIRTHDAY AND BLESSINGS FROM GOD..

LOVE IN CHRIST JESUS,

AUNT NINA AND UNCLE JACK