Have you ever dreamed of an era where internet marketing was a lot easier than it is today? The tools available to assist the internet marketers can go a long way in reducing their workload and helping them get rid of the tons of repetitive and monotonous tasks that would irk them every now and then, when done manually.

With the advancement of technology, there has been a perpetual increase in the conduits that can be utilized to stay in touch with one's prospective customers. So, in this scenario, the more tools an internet marketer has in his/her armory to make the marketing process a lot less complex and more systematic, better will be the chances of striking the right chord with the intended audience. However, when one starts pondering over the channel to be used to convey one's communication to potential customers, this is where the decision making process begins to take its toll and things become a lot murkier.
When it comes to developing your online marketing plan, social media marketing, search engine optimization and search engine marketing are some of the primary components that are to be included in your strategies at all costs.
Once again questions about ideal websites for the marketing campaign and preferred antics to be used, pop out in one's head. The options available in this regard are numerous and it becomes utterly confusing to decide which ones would make the best possible choice. In this context, EZSiteBuilders formulated an infographic to better explain you all these situations together with their inherent complexities.
Congratulations! We are going to help you out and present to you a gist of all the 42 internet marketing tools below. So, continue reading after the graphic. Happy Reading!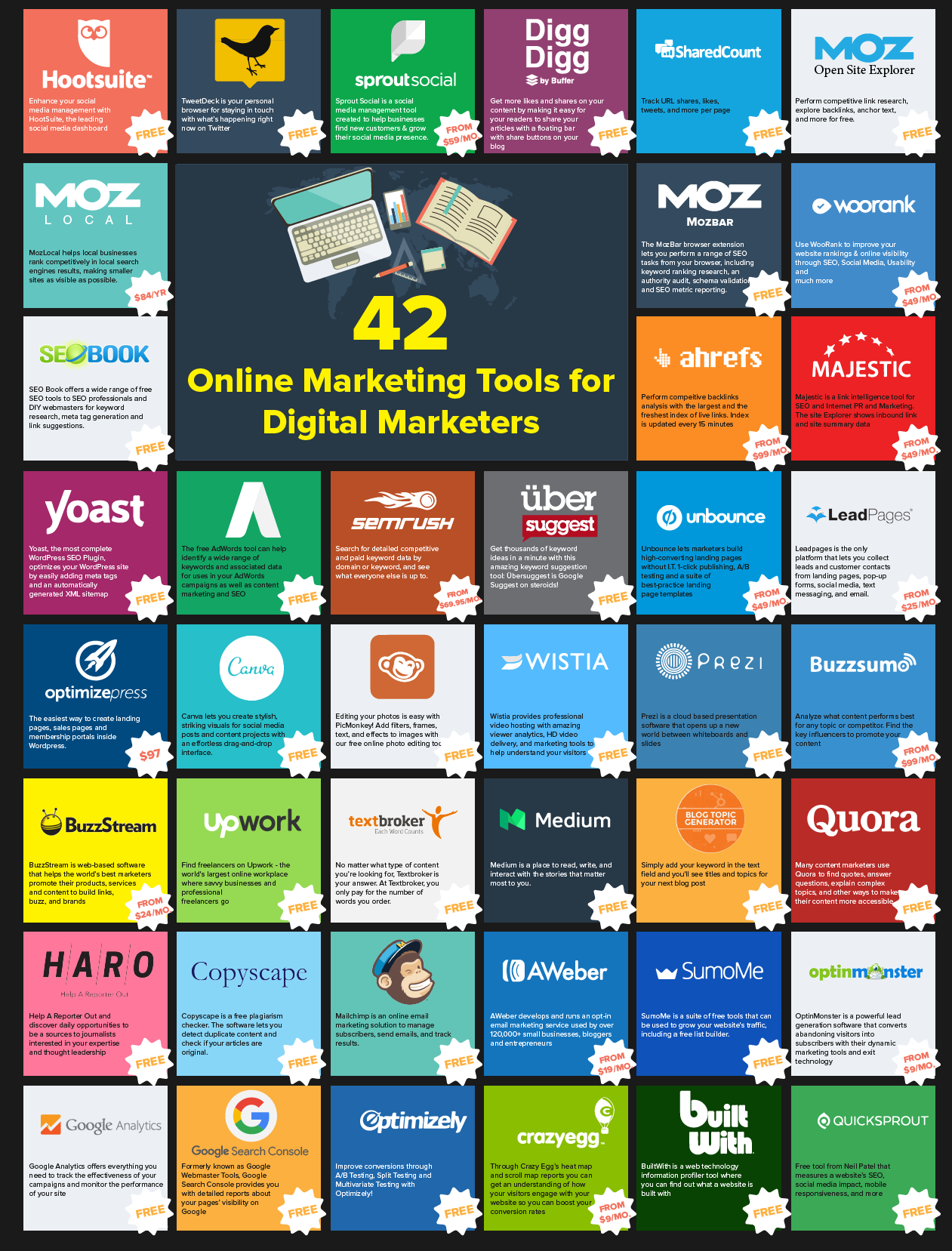 Social Media Marketing Tools

BuzzSumo – This tool helps you determine what type of content would be the most suitable to clobber a certain type of topic or crush your competitors in a certain category. You can also look out for the vital influencers who can promote your content among the intended audience.
Canva – Carve out some eye-catching and mesmerising graphical elements for your social media content and other infographic projects by virtue of an intuitive interface that requires the minimum effort possible.
Digg Digg – This amazing tool helps you achieve the goal of getting increased likes and shares on your social media posts by ensuring that the user faces no obstacles whatsoever with a bar that scrolls down with the page and containing share buttons on the blog.
Hootsuite – This is the top-of-the-line social media management tool that helps you streamline your tasks in accordance with their priorities, schedule posts, shares, likes etc..
QuickSprout – This tool has been developed by Neil Patel designed specifically to assess a website's strengths and weaknesses in terms of Search Engine Optimization, effectiveness of social media campaigns, platform adaptability, and plenty more stuff.
SharedCount – With the help of this tool, you can keep track of URL shares, likes, tweets and a lot of other statistics on per page basis.
SproutSocial – This is yet another leading social media dashboard that has been developed especially for burgeoning businesses to identify new customers and boost their interaction with them through appropriate branding and engagement online.
TweetDeck – This tool provides a personalized environment to users to keep track of the happenings on Twitter.
WooRank – This amazingly useful tool can be utilized to promote your website rankings on the search engine results pages and also bolster your online presence through search engine optimization, social media, enhanced user experience and more.
SEO Tools
Pay Per Click Tools
Optimizely – This tool helps digital marketing experts to bolster their online conversions through A/B testing, split testing and multivariate testing. In addition, a large number of other relevant tests to check out the optimization of your website are also provided
OptimizePress – This is yet another tool for WordPress that allows users to create user-friendly landing pages, sales pages and registration platforms without any fuss.
Content Marketing Tools

Email Marketing Tools
Aweber – This company is responsible for developing and operating optional email service that is being used by more than 120,000 small scale businesses, bloggers and business owners.
Mailchimp – This is an online tool that helps carry out email marketing campaigns and newsletters and manage subscribers, schedule emails and track analytics.
Data & Analytics Tools
BuiltWith – This web based tool helps you determine the technologies used to build websites.
Google Analytics – This is another handy tool by Google that provides valuable information about the progress of your internet marketing campaigns and furnishes relevant data that can help you take steps to improve your website's traffic.
Google Search Console – This is previously known as the Google Webmasters Tool and provides detailed reports to the user regarding the website's visibility and ranking on Google SERPs.
Also check out our recent post on 100 Online Tools – Every Blogger Should Have.
[sociallocker id="1641″] [/sociallocker]