Instagram Story-Perfect Dimensions and Best Practices
The new feature in Instagram that lets us share photos with our friends in a moment is simply marvelous. It seems like ages when we used to listen to the disgusting ring whenever we attempted to connect to the internet using our dial-up modem and now we are in an era where even a latency of two seconds in the loading of an image irks most of us.
The photo sharing options and features introduced by Instagram in the world of social media has been astounding. The platform's recently added new feature known as Instagram Story has taken the world of social media by storm. This feature lets you keep your followers updated with what you are doing or what your brand is doing. You can post short videos and photographs that will disappear in a day while being able to determine how many of your followers are getting to view your stories. We are beginning to witness more and more brands using Instagram stories and the primary question that crops up in one's mind is which are the perfect dimensions for an ideal Instagram story to make it a super duper hit among your followers.
We have conducted extensive research in this regard to bring to you the best practices involved in creating Instagram stories and the appropriate dimensions so you can formulate attractive stories that will keep your intended audience engaged.
Dimensions of Instagram Story
The dimensions of an Instagram Story are 1080 x 1920 pixels. This means that you image has to be 1080 pixels wide and 1920 pixels in length. This is also known as an aspect ratio of 9:16.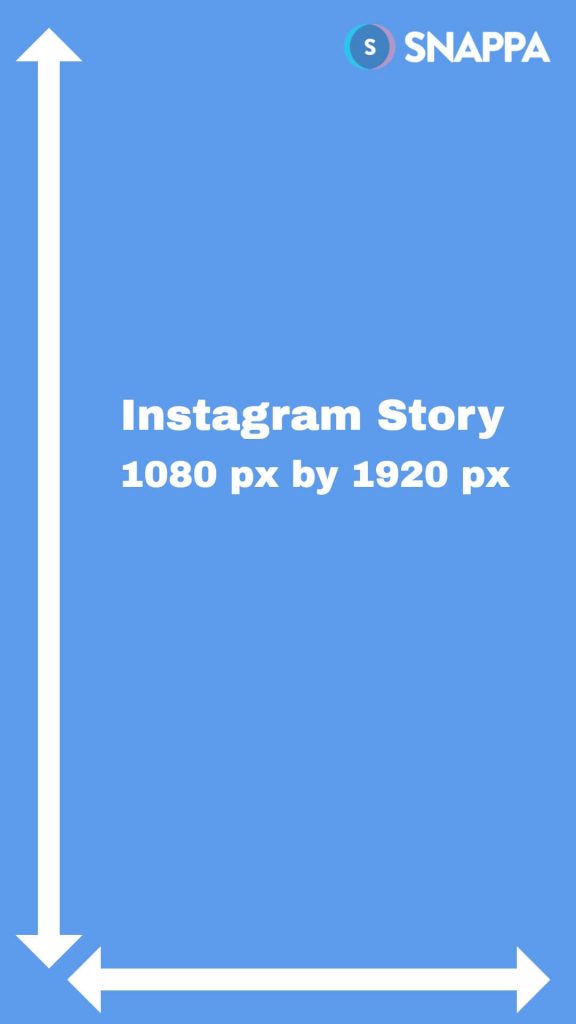 There are stringent rules in place regarding the size of your stories. If a photo or video is added to a story that is not in accordance with the given dimensions, they get cropped or sometimes even zoomed in. This may result in loss of quality and sometimes crucial visuals getting cropped.
How to create a perfect Instagram story?
If you are planning to add a simple photograph or video footage to your Instagram story, you simply have to capture your image or video with your camera in the vertical position.
Yes, this is absolutely antithetic to the appropriate technique to filming videos.
If you are planning to create Instagram stories with attractive text and luring visuals, there are a few more steps that you should be thinking to give attention to.
You can resort to using Snappa to create Instagram stories of the highest quality for yourself or your brand. Here is a video tutorial that discusses the way you can create an Instagram story within less than a couple of minutes.
https://www.youtube.com/watch?v=rWmDny6RY0U
You can select a video that you captured with your camera at an aspect ratio of 16:9 and crop it using software such as iMovie, Adobe Premier Pro or Final Cut. Any video editing application will let you crop a video to 1080 x 1920 pixels.
What should an Instagram Story focus on?
What is so special about Instagram story is that you can use it to market your products, promote your business or use it as a conduit to keep your followers engaged.
Call-to-Actions
If you are a business profile, you can incorporate a link into the Instagram Story and ask your followers to swipe up and visit the intended website. This can come in handy if you are promoting a certain blog post.
If you are using Instagram in your personal capacity, you can still promote your new posts and keep your followers engaged. You may incorporate a link in your bio and ask your followers to click on the link for more information or to direct them to certain webpage.
Behind the scenes
You can utilize Instagram stories to give your followers a sneak peek into your daily life or how things are done in your business. This can build up excitement among Instagram users about the content that is coming in the future and the products that you intend to share with them. A glimpse into behind the scenes will help your followers stay tuned and always yearning for new stuff coming from your side.
Polls
The polls feature in an Instagram story lets you ask a question and see for yourself what your followers are thinking about it and it also informs you who has responded to your question. This is a magnificent feature that provides a prolific way to carry out market research free of cost. If you ask the appropriate questions, you can definitely get into the minds of your followers and get to know what and how they think!
User generated content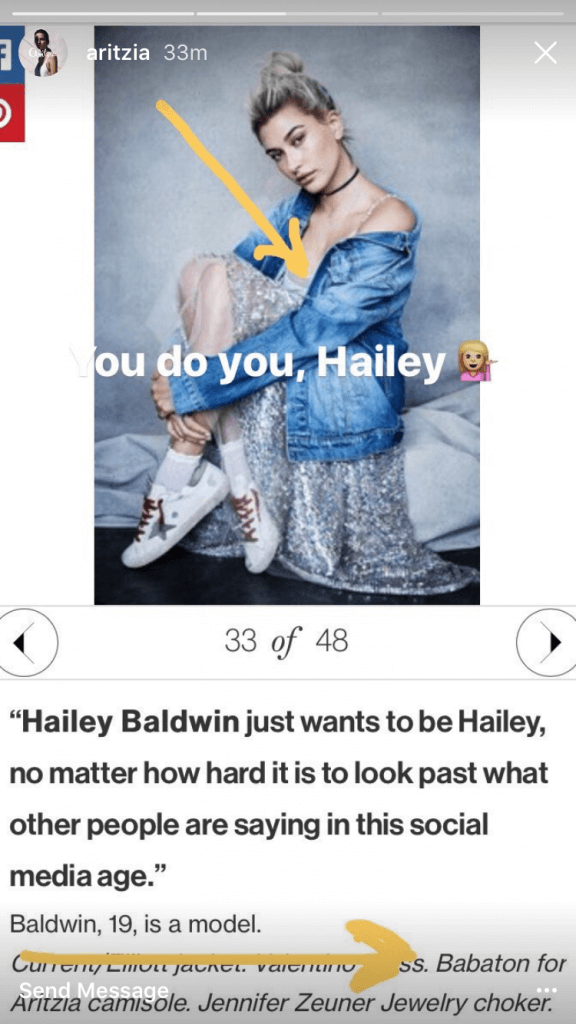 This is relevant to businesses and blogs. If you are intending to utilize a certain style or appearance for your Instagram feed, it is not judicious to repost images from your customers or followers. This is so because you cannot exercise control over the way your customers capture these images but testimonials can prove to be excellent content. Instagram stories can be a brilliant source to portray the opinions of your followers and users regarding your products and services without spoiling your Instagram feed. You can even repost their video and make their day.
Moreover, if your business has been able to garner some press coverage, you may as well showcase it in your Instagram story. As you can see in the image above, the famous clothing line, Artizia, discovered that Hailey Baldwin put on one of their apparel. They too a screenshot of the post and shared it with their followers in their Instagram story.
Mistakes you should stay clear of
You must be wondering what is so difficult about Instagram stories and what all the fuss is about! We should get to creating them right now!
It definitely is easy! But before you begin, let us take a breather and take a look at some of the mistakes that you should be staying clear of while creating Instagram stories.
Long stories: A single Instagram story is restricted to 15 seconds in duration. However, you may post as many stories as your heart desires. You do not want your followers to swipe away your story and skip it entirely. This can be prevented by keeping your story short and crisp. Similar to Snapchat, you would never want to watch a short film from someone else's story.
Avoid too much promotion: Do not make an effort to promote yourself or your brand too much. You must have heard Gary Vaynerchuk talking about the jab, jab, right hook! This means that you should offer value to your followers before you convince them to respond to your call to action.
Too much text: Keep in mind that an Instagram story is restricted to just 15 seconds and it is not enough time for your followers to start reading plentiful of text. Your followers would despise to see tons of text on their social media timeline. So, your content should be kept short and crisp and should keep your audience engaged rather than making them bored.
Irrelevant hashtags: Instagram lets you incorporate hashtags in your stories to let other users discover your content. Too many hashtags in a story make it look nothing more than spam so it is prudent to avoid using irrelevant hashtags. You may as well add a few where required and ensure that it offers some value to your followers. Here is a post on the appropriate usage of Hashtags in Instagram. You may as well use the same techniques for Instagram Story.
Best Practices
We are done with the strategizing part. Now, it is time to share with you some inspirational stuff so that you can being creating perfect Instagram stories right away.
1 – HubSpot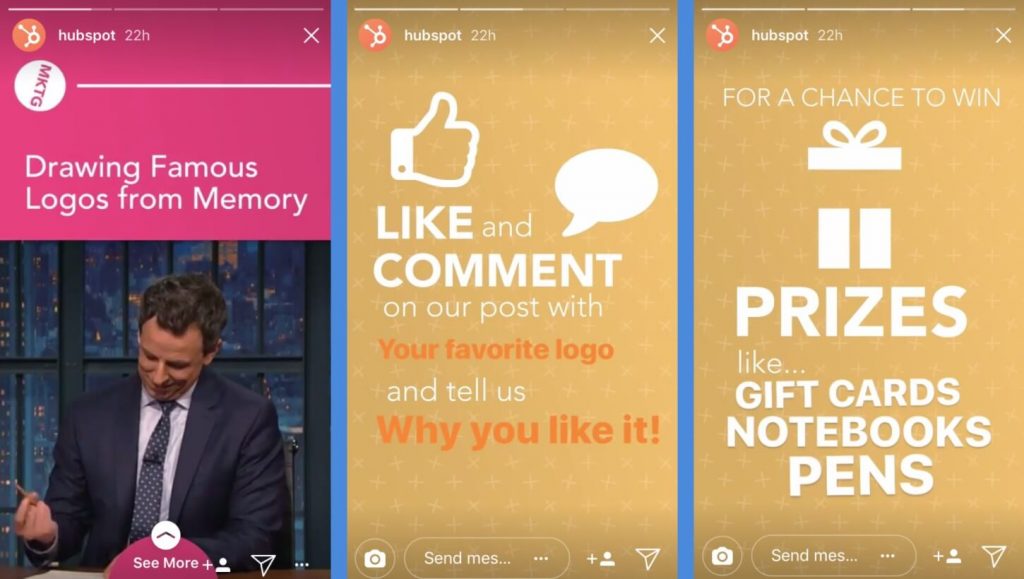 HubSpot can be thought of as a brilliant example of using Instagram Story to keep their intended audience engaged with their brand. They use it to promote their latest article, spice it up with a call to action and eventually offer some value to their followers.
2 – Puma Women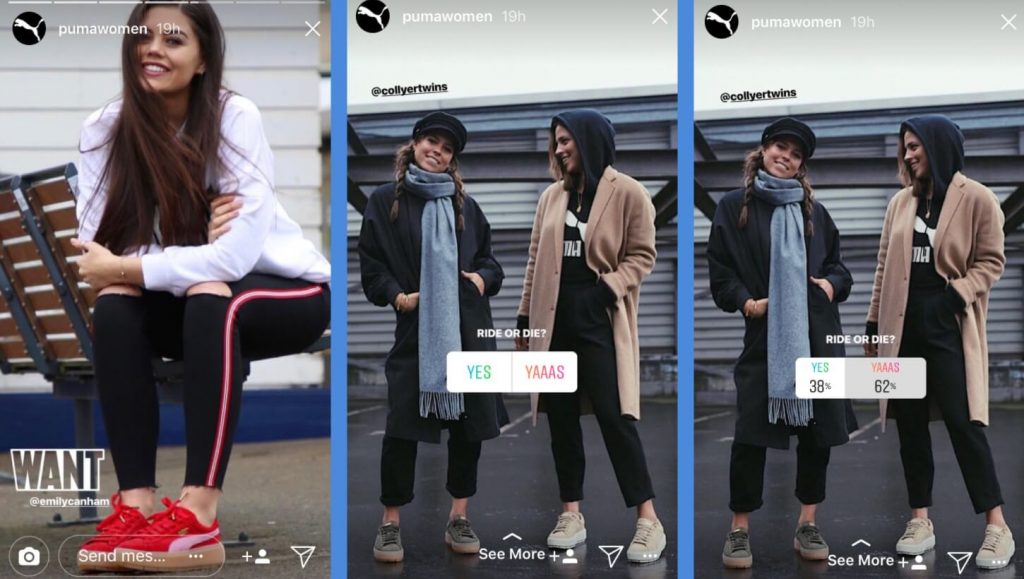 Influencing your customers via social media seems to be the way to go these days. Puma Women capture influences wearing their wardrobe and showcase them in their Instagram stories with the integration of a nice poll. They might not get handy information from this poll but it certainly is a nice way to keep your audience interested and get to know who exactly is participating in the polls.
3 – Mercedes Benz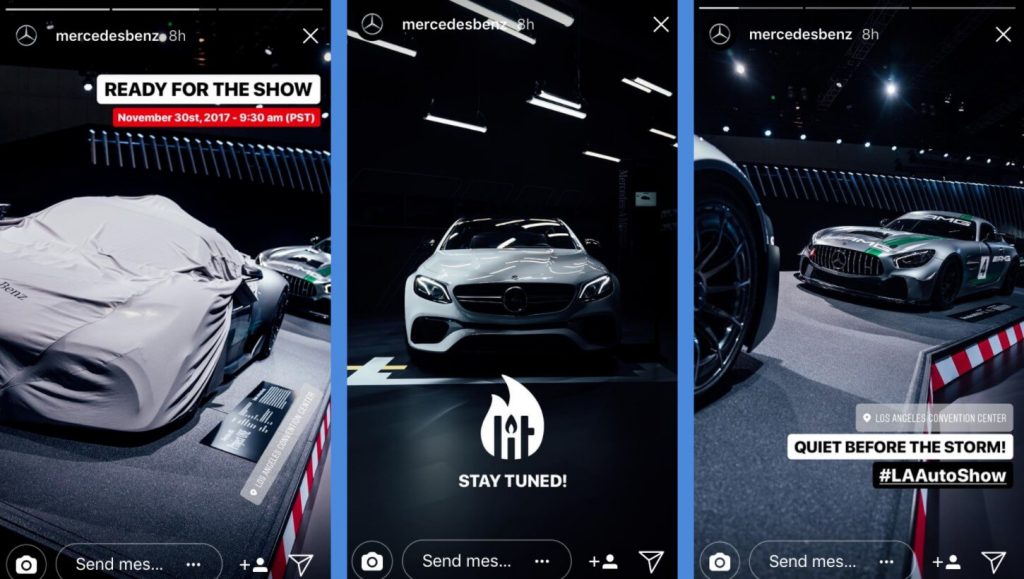 The social media team at Mercedes Benz has done a phenomenal job by giving their followers a sneak peek into a car show at Los Angeles Convention Center. There cannot be any better method to excite your community of car lovers with top quality images of what they are likely to see in the future. This story was able to attract number of visitors to the car show and was a sure hit among the fans.
Moreover, the Mercedes Benz AMG team also done a commendable job by showcasing their AMG class series to their followers. The influencer marketer @michelletakeaim promoted the She's Mercedes campaign. The story shows Michelle having a heck of a time driving the super car in Beverly Hills. Despite the fact that these stories are promoting their brand but they have been able to create attention grabbing content and have been successful in portraying the coveted lifestyle of a famous celebrity who loves to own a Mercedes Benz AMG class series car.
The Wrap Up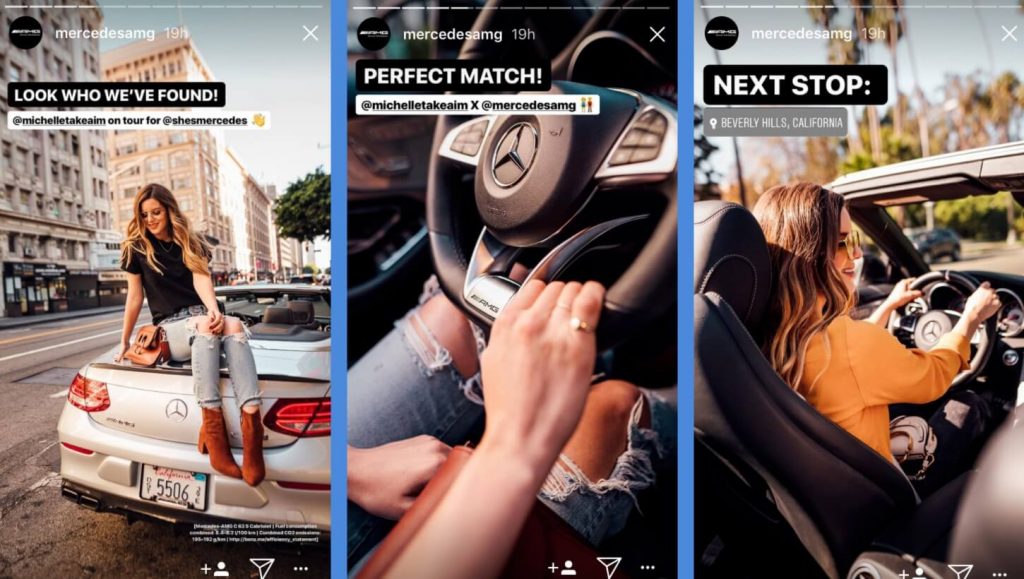 Is it okay to stop posting on Instagram on a regular basis and simply post Instagram stories? The answer is an emphatic No!
The Instagram Story is a new feature that can be handy in keeping your followers engaged. You can add call to action in these stories and ask your followers to visit a certain page or to simply inform them about your latest products or services.
It is not difficult to create an Instagram story but it is certainly not an easy task to create a story that is compelling. The idea is not to overpower your followers with lots of stuff and use attention grabbing visuals and content to keep them yearning for more. Keep in mind that you use the appropriate Instagram Story dimensions of 1080 x 1920 pixels so that your image quality remains intact and Instagram does not have to crop it or zoom into it.
You have to be imaginative, innovative, versatile and you will surely be able to get plenty of success with the help of Instagram stories.
If you have any tips and tricks up your sleeves for creating unique Instagram stories or you want to share with us the brands that have been able to create appealing Instagram stories, you can do it by posting your comment in the comments section below.