---
Do you want to rank on top?
Ahrefs can help you out!
---
Ahrefs: Boost and Maintain Website Traffic!
---
A

hrefs, is the best tool to use for boosting website traffic, researching competitors, and monitoring the the keywords used. Who does not want to rank? Find out more in this article on how to utilize the tools and features of Ahrefs!
We are all looking for a consistent software that can track KPI (Key Performance Indicator) for our content marketing and SEO development. I can tell that Ahrefs is a great tool to use for searching, boosting, and monitoring traffic for your website.
You might also want to take a look at my email marketing strategies here. But for now, let's take a look at how the Ahrefs works with its amazing features.
What are the main tools of Ahrefs?
Site Explorer: This main tool is composed of the 3 most powerful tool for SEO! It has the backlink checker, paid traffic research, and organic traffic research. You can see how your competitors are doing and at the same time, you can check their backlink's profile.
Keyword Explorer: You would get a handful list of great keyword ideas that you can use with your contents. It generates ideas from phrase match, same terms, search suggestions, and also rank for.
Content Explorer: This is also a great tool for content marketers like me. You can easily look for contents from a keyword, and the most popular articles will be shown from their performance metrics.
Rank Tracker: You can monitor the ranks of your website and enhance your performance against your competitors.
Site Audit: It's nice to have your website clearly monitored. Its performance is visualized, issues are notified, solutions and recommendations are given to help you fix it.
Alerts: You can set up an alert that will notify you with every new and lost web mentions, backlinks, and keyword rankings.
SEO Toolbar: This tool allows you not to open the Site Explorer anymore, SEO metrics are instantly shown for any web page that you visit. Moreover, it gives an Google SERP analysis.
Extra Tools of Ahrefs
Domain Comparison
Batch Analysis
Link Intersect
Content Gap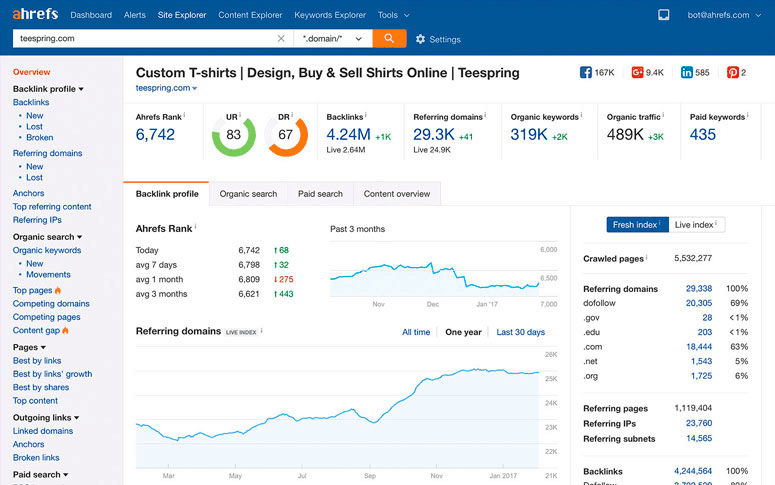 What features can I use with Ahrefs?
Backlink Checker
SERP Checker
Keyword Generator
Link Checker
Keyword Rank Checker
Broken Link Checker
Keyword Difficulty
We cannot deny that the most helpful SEO tools and features are found in Ahrefs. You can exactly see what keywords you and your competitors are ranking in the organic search result.
Why I choose Ahrefs?
I chose Ahrefs because it has helped me a lot in keyword researching, boosting and maintaing my website's traffic. The main tools that I utilized in Ahrefs are:
Top pages: I love to check out the top pages of certain blogs. When I decide to enter a certain niche or a certain keyword section on one of my own sites, I always check the competitors. By then, I can evaluate how much traffic their top pages generate.
It gives huge insight — because the crazy thing is — most websites only get the 80/20 rule. This means that the 80% traffic their page generates only goes to 20% of their pages — often even more skewed. Normally, it is really just a few pages.
Top keywords: Also, I see what main keywords the website is ranking for. It allows me to have more insights on the site's ability to generate traffic, what is working, and what is not.
Competitor landscape: I would know the top closest competitors, I can see what other domains that are similar to the site. This is like a rabbit hole, wherein you can dive into those sites and repeat this process of evaluating all these sites.
All in all, I think Ahrefs is an amazing tool for content creators, internet marketers, and SEO dudes (and dude-ettes). However, Ahref comes with a price! The monthly fee is around 100 USD for standard Ahrefs subscription.
Frequently Asked Questions
What is Ahrefs?

Ahrefs has been known with its great toolset for keyword research and SEO analysis. For those who are managing websites or creating contents, Ahrefs is the best link research tool.
What is Ahrefs rank?
Ahrefs rank will provide you a list of all the websites in the Ahrefs database. The Ahrefs rank is ordered by the quality and size of the backlink profiles of the websites. It compares and shows the strength of each website.
How to Use Ahrefs for FREE?
Unfortunately, Ahrefs is not for free. You can only use Ahrefs for free if you own a job from Ahrefs or own Ahfres! Kidding aside, read the information below to know how much Ahrefs pricing is.
How much is Ahrefs pricing?
Ahrefs offer a 7-day trial with full access to their tools and features. If you wish to try the trial, you have to pay $7 for 7 days, and $99 every month. The package is perfect for solo entrepreneurs and freelance content marketers. There's also a package for $7 for 7 days and $179 every month. This feature is perfect for SEO consultants and bigtime marketers.
Check out Ahrefs now!
There is a 7-day Trial from Ahrefs. What are you waiting for? Enhance and keep an eye on your rank!
You can browse our directory here for more information.
Try Ahrefs 7-day Trial
About the Directory
The Mike's Blog Directory was established to help internet entrepreneurs browse options for their websites and business needs. To support the business, some links may be affiliate links to continue the development of this free resource.
What can you say about Ahrefs?
Share your thoughts below!
0

out of

5

based on

0

reviews.
Overall rating: