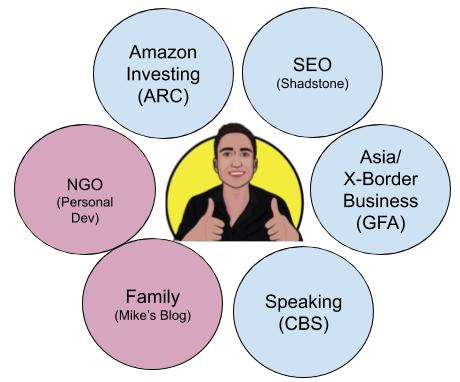 Topic 1 (business): Amazon FBA / Alpha Rock Capital investing –
Topic 2 (business) : Asia/China trading / ecommerce – Global From Asia – a bit more broad – as you know GFA is so broad on topics – for globalfromasia.com – but also crossbordersummit.com annual conference – this year will be Nov 19-20, 2020 and we have gfavip.com private membership
Topic 3 (business) SEO / content marketing – I love this one man. My company is shadstone.com and always get some kind of SEO client / content creation, did that in HK for so many years.
Topic 4: (Personal) – Family – everyone loves kids photos and being a parent stuff. This is my personal V-log, mikesblog.com/vlog and what I am currently mainly putting on facebook.com/michelini
Topic 5 (personal): Helping those who can't get banking / can't get same opportunities as me as a US citizen. One thing that has bothered me is the world is not equal. I was lucky to be born in USA, and have US passport and so many easy ways to get US bank, Stripe, business setup, etc. But for many they can't. GFA showed me this so clearly. I try to get people banking, stripe, and other ways to let them earn income even if they are in a country that is difficult to get banking.
Topic 6 (personal) : (speaking, training) not sure if this counts as personal – but I love to teach people man. I love to help those who want to help themselves. I spoke free at a filipino ecommerce group about sourcing from china, I just do it because I want to enable people to take action. I have also done things like training ningbo factory for a 2 day Amazon FBA course as well – which of course is the business side of it.