Take Over America Campaign
Mike's Blog 111
Trying something creative and out of the box here – with ITTZ PR agency in Shenzhen, China we sent out 500 "red envelopes" (Hong Bao) with US currency overlaying Chinese Emperors on top of the US Presidents to top Chinese tech firms. We said welcome to America and making it clear that China has moved further in its global expansion.
Already have been getting some friends begging me to retract the PR release and all the coverage we have already gotten it. I love that I have friends who care about me and my business and are afraid for me to get heat on this one, but this is what is needed to be creative. The campaign in and of itself is also meant to be like that – to inspire Chinese tech companies to be more bold and more creative. Sean Davis from ITTZ and I are here in Shenzhen, China and know there is a lot more creativity than what we see in the news – plus a lot more software and marketing than just hardware (for what Shenzhen is known for).
So taking a risk and putting myself out there a bit – one of my buddies Mike McAwesome is a bit nervous for me.
If you're curious – here's the official PR release too:
"Take Over America" goes Viral in China

A marketing agency in Shenzhen has given the world a glimpse of what the world could look like if China took over by creating U.S. currency featuring faces of Chinese emperors.
ITTIZ and Global from Asia sent red envelopes containing the bills to 500 of the biggest companies in Shenzhen, including LENOVO, ZTE, MEIZU, HUAWEI, HAIER, OPPO, DJI, and others. All of the bills are actual U.S. currency notes, ranging in value from $1 to $100, with a removable sticker of a Chinese emperor covering the respective U.S. icon's image.
A few companies responded for requests to comment after receiving the envelopes.

"It really puts into perspective the current state of global affairs and how the world is so quickly changing". Q. Shah, CEO, ATOM.
"Received the envelope and instantly thought that this will probably offend some people overseas, however we mainly see the comedic aspect of it" Enzo Wang, CEO, Jinzhouheng Electronics.
'Pretty excited to receive the red envelope. Who doesn't love lucky money?! Initial thought was confusion as I thought it was fake, but extra happy when I found out the sticker was peelable and money was real. Not your normal campaign. Ballsy.' Ibby Azzam, CEO, Mazai Sourcing.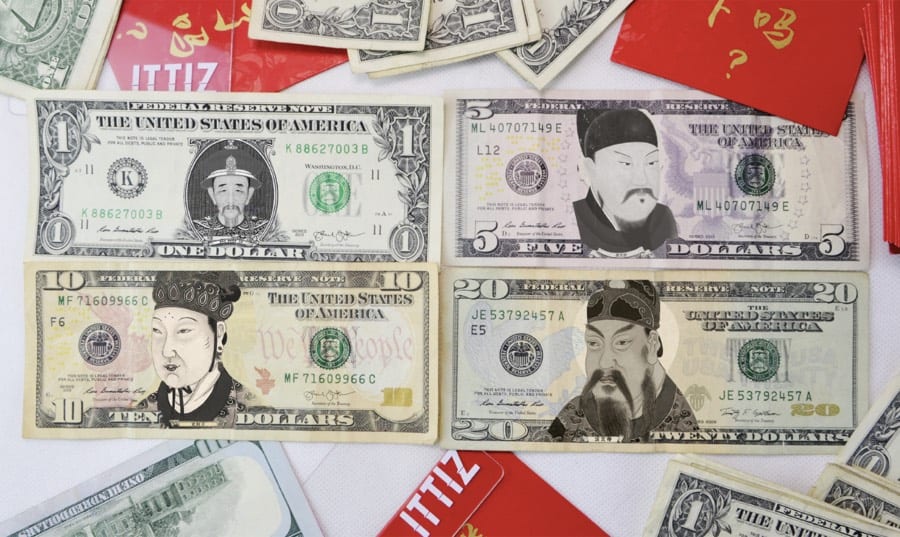 The timing for sending out the red envelopes coincides with the Fourth of July, American Independence Day, which was chosen for maximum impact.
ITTIZ came up with the idea for the campaign a few months ago when considering the outcome of the U.S. presidential election. Sean Davis, CEO of ITTIZ, said that with the current state of globalization and the general interconnectedness of countries, the likelihood of China's rise is as probable as ever and pulling back isn't a reasonable option. This is ITTIZ's second campaign; the first one was in April last year and impacted around 15 million people.
The company wanted to create something that taught companies in Shenzhen the value of thinking creatively, and so the currency, political, competitive and comedic aspect of this campaign became appealing.
Along with support from Mike Michelini, CEO of Global from Asia, the campaign to send the U.S. currency to Chinese companies began. Each note is customized and titled, "Are you ready to take over America?"
ITTIZ believes this was a creative way to share the importance of marketing with Chinese companies by tying it in directly with currency, revenues, and overseas competition. The campaign is expected to reach a wide audience spanning various industries. Thus far, there has been a range of reaction, with the majority finding the campaign humorous.
"The campaign sparked the imagination of all those involved," said Sean Davis. Davis expects this campaign will attract more attention to his company and showcase what ITTIZ can do for clients.
"We found the red envelopes to be quite humorous" Leo Chen, CEO, JUISIR.
Mike Michelini, who has been in China for over 10 years, was surprised by the reception the campaign received. "We did not anticipate the campaign would spread this quickly."
Both Davis and Michelini are supporters of Shenzhen and have lived in the dynamic city for over a decade.
"One of the other reasons we ran this campaign was to showcase the creative abilities currently available in Shenzhen. A lot of the time there is a large focus on hardware, while the creatives are left out in the cold. We wanted to show that Shenzhen is not only a place for hardware innovation, but for innovation on all fronts, such as, in our case, marketing, branding, and design," said Davis.
"We see Shenzhen being a technology hub for the 21st century. We feel that creative ideas will only accelerate this movement. The future is coming at us quickly, everything in today's economy is up for grabs, and Shenzhen is ready to grab hold and take it!"
ITTIZ
www.ittiz.com
+86075523205013
info@ittiz.com
Global From Asia
www.globalfromasia.com
+1(212)679-1340
blog@globalfromasia.com
Links to Images
https://ibb.co/kZJjXk
https://ibb.co/igSNJQ
https://ibb.co/nRBhJQ
https://ibb.co/dBPBdQ