Today spent the afternoon going to various Philippines government offices in Makati and Quezon City – trying to determine which, if any, form of corporate entity should be formed here at this moment. Currently I am utilizing the Philippines as a night call center for USA ecommerce businesses, mainly newyorkbarstore. Been getting more confident, and comfortable – as Marie has been doing a great job here as the point person and local to help with keeping things in order. So today she guided me around all the various government offices – and tried to determine what was best.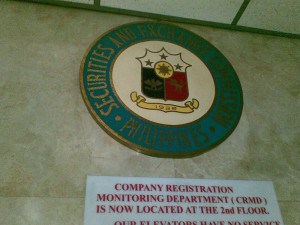 From what I have researched, IT IS SO similar to US rules and procedures. Actually, a lot of things in Philippines are based after American standards and practices, as USA was ruling this country for some time, and implemented a lot of its policies and procedures here. First of all, the main government office for company setup is the SEC – securities and exchange commission – which is exactly like the bureau in America. The main floor is flooded with waiting lines, and insanity….but yea, I guess government offices all over the world suck like that. They did have a nice information booth for free consultation. I discussed things with them, and basically there are 5 choices, very closely related to USA company choices:
Sole Proprietorship – the easiest and cheapest to setup, for a local filipino, if you are a foreigner, then you need: (1) certified true copy of the current year's permit to engage in retail business (2) Alien Certificate of Registration, (3) Department of Trade + Industry Form, (4) Written appointment of Filipino resident agent, and (5) clearance from other agencies such as police, etc.BASICALLY – too difficult for a foreigner to do plus, UNLIMITED liability…i'm not gonna sign up for that, and if there is a bankruptcy or a lawsuit it comes to me personally…..Also, I asked if a local filipino can open the company and sign a personal contract with me for ownership….and the government official said that is technically illegal, and that it wouldn't hold up in court.
General or Limited Partnership – like in USA, setting up is quick and easy, has to be at least 2 owners, but a foreigner cannot be majority owner. General is unlimited liability, and limited partnership protects the owner's personal assets from company liabilities.
Stock corporations – the traditional and most common company formation in Philippines, but MUST be at least 5 owners. This is where its different from other corporate structures in USA and other countries. Plus there's about 1.5% filing fee of the registered capital.
Representative office of a foreign company – Representative companies are not allowed to derive income from the Philippines, it can only do marketing and support for the parent company. this seems to make most sense for me, it is easier to setup – but you have to prove and bring all forms of documents of the parent company, show financials from that company, notarized documents, etc.There are 2 types of representative offices –
(1) for domestic market – if you plan to sell and do business in philippines local market, (over 40% of your income) then you need to do this. Documentation seems longer and more expensive.
(2) for export market – if more than 60% of your income comes from sales outside of the Philippines, this is what you can file for.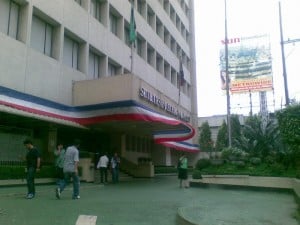 So I will continue to research more. Tomorrow meeting with Vic from HSBC Philippines. There are also ways to open bank accounts in the Philippines as a foreigner (personally) and as a foreign company. There are a lot of various minimum balance requirements, and other ideas. Also taxes….meeting an accounting firm too. More complications of running an international business…but hey, keep on rocking, keep on pushing, its all about long term.