One of the first e-commerce businesses I ever started (technically there was 1 or 2 that didn't make it too far before – part of the process ha!) – New York Bar Store – we are bringing it back to life.
This business is a labor of love for sure. Started in a New York City studio apartment with Andrew back in 2004 that went through the "school of hard knocks" from 2004 to about 2012. It is coming back to life in a new and improved way.
Here's a throwback photo of me at the New York Bar Store in 2006.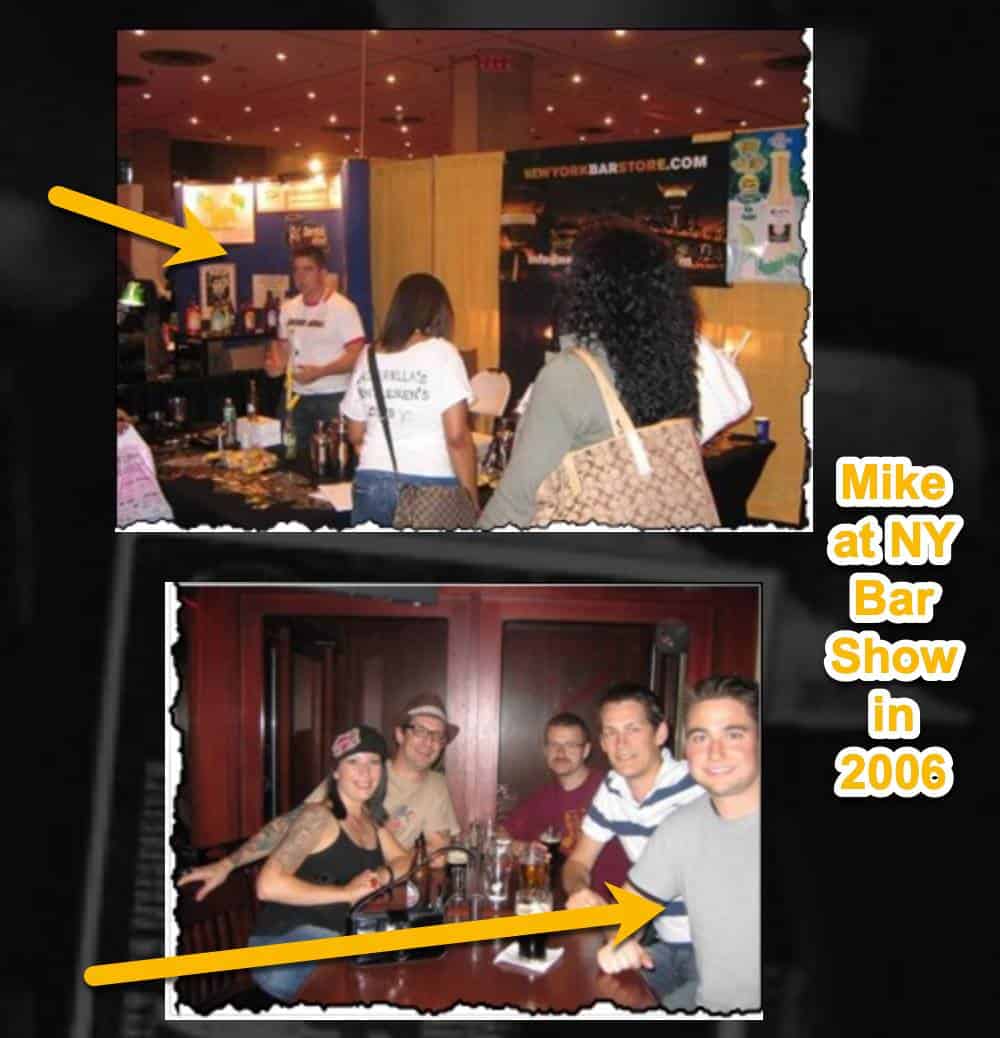 ---
And snuck a photo with the booth babe that was at the neighbor booth ;0)
---
What is the new business model? We are building and promoting brands with the space. One of the biggest lessons was, I didn't make a product brand, we made a "distributor / service" brand (you can look it up in USPTO if you're curious). A product brand, in my opinion and experience, is so much more valuable.
And that is what we are doing now. Through various partners in each product brand (Esatto, Excalibur Brothers, and Akitai), we are bringing it back!
We are looking for friends and partners and distributors to collaborate with. The goal is to build this back better than ever. We are mainly looking for those who want to help on business development, distribution, and marketing and branding to work with us.
There is so much opportunity here and we are going to push the limits as always.
Watch the Video interview w/ Mike on the new New York Bar Store.
Facebook Friends Supporting Us!
---
Michael Michelini nice! Interesting to learn the back story, I remember the original launch and website! Congrats to the team on the relaunch!

Valerio Bruscianelli
Michael Michelini Best of luck Mike! I remember when you started while working at DEUTSCHE Bank

Richard Munoz
That's awesome! Congratulations Boss Mike! Reminds me of our Bartending kits!

Louie Torreda
I can't believe that you resurrect that!!

Antony Yiu
Michael Michelini - never give up. The timing is right to build an online community through all the social media platforms. Brands are the key to your future success.

Paul Jones
Michael - you are a content creating machine - what's your biggest traffic source? Do you do paid ads?

Angela Cheung
Congratulations my dear friend ❤️ 😘 ♥️

Ngima Sherpa
Will there be a sister company "Chiang Mai Bar Store"?

Piotr H-dejuk
Wow! That's awesome! Moving forward good luck 👍

Theresa Depuy
i still have a copy of masterloader.xls if that helps

Brian McKeon
Nice!! I still have one of your shakers here in Seattle. Haha! Cheers to the resurrection! 

Joshua Whiting
I remember our telephone conversation that lasted for hours. I told you to pick a product you know and by the end of our brainstorming you realized barware might be it. You were working in a bar and told me you were writing the stuff on your walls. You were scared and excited all at once. I am the map lady you reached out to. I am still going strong almost 20 years later using the same methods I shared with you all those years ago. You have surpassed me in so many ways and I have enjoyed watching your growth over the years. I told you back then that I knew you could make it on the internet.🙂

Diana Blair